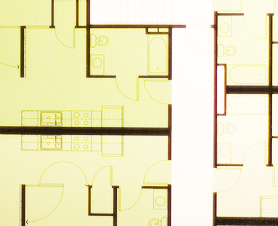 If you're looking for a great new venture, you may want to get into the real estate game. According to a new report by real estate services company CBRE, the startup community's growth has led to an ever-increasing demand for space. In short: These companies need places to operate out of.
In a way, these findings aren't surprising. With the storm that's been coming with Groupon's runaway success and, subsequently, the ascent of 1871, more people are going into business for themselves and they have to work somewhere. Additionally, companies that have been graduating from the collaborative hub for digital startups in the Merchandise Mart are in a different position from those who are starting out of a basement: They've already been working together and meeting in a neutral location for a long while, so it makes sense they want to move up with their own dedicated space, and not back to the aforementioned basement.
The numbers to back these findings up are as follows, according to the CBRE: In 2010, the vacancy rate in downtown Chicago buildings for these types of businesses was 14 percent, and currently it's 6 percent.
So, the solution, perhaps, is to stop trying to innovate and start looking at opening spaces for these companies to go to. This will, at least, address the need for companies just starting out. And I can tell you from personal experience, 1871 is noticeably getting more crowded day-to-day.
It's nothing to poke or make fun of, but just a hallmark of the space's success. But it does also demonstrate the need for places like this. At least two of my friends have been looking into opening co-working spaces outside the city to tap more into the market of people who don't want to take the train into the city for work. One of them has already opened such a space in Mokena, and while he's still hustling for members, there is a demonstrable need for such places.
If you're interested in clacking your gears on this train of thought, check out this handy list over at Mashable and the series of pieces from the aforementioned Mokena person here on Inc. Well.
David Wolinsky is a freelance writer and a lifelong Chicagoan. In addition to currently serving as IFC's comedy, film, and TV blogger, he's also a comedy-writing instructor for Second City and an adjunct professor in DePaul's College of Computing and Digital Media. (He also co-runs a blog behind the DePaul class, DIY Game Dev.) He was the Chicago city editor for The Onion A.V. Club where he provided in-depth daily coverage of this city's bustling arts/entertainment scene for half a decade. His first career aspirations were to be a game-show host.