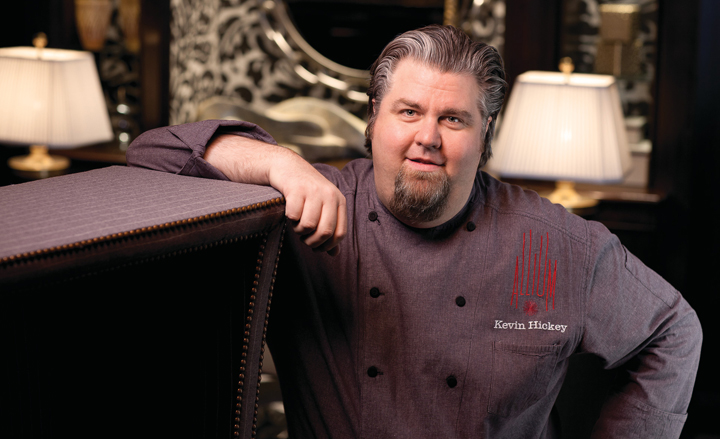 After spending years at the helm of Seasons, the luxury restaurant in the Four Seasons Hotel in the Gold Coast, Executive Chef Kevin Hickey took on his greatest culinary challenge. At the risk of losing loyal clientele, Hickey and team introduced a new dining concept that overhauled the menu, décor and price point. Allium, located in Four Seasons Hotel Chicago, represents a deliberate departure from its upscale predecessor, while staying true to the kitchen's gourmet roots. Chef Hickey shares his experience rebranding an established entity, reinventing the hot dog and playing the alphabet game.
What was the catalyst for changing the restaurant concept in the Four Seasons?
Kevin Hickey: First and foremost, guest preferences. While we were receiving multitudes of accolades for fine dining -- including Michelin stars -- we saw that the majority of guests that were coming to us for food and beverage experiences were gravitating towards the bar and smaller plates. That was the No. 1 reason. Then you can start to compound it with changes in dining trends and the evolution of fine dining, which is funny because people say fine dining is dead, which it's not: It has evolved and may evolve back.
Can you describe your vision for Allium and how you brought it to life?
Kevin Hickey: The vision started off with creating an American restaurant. We looked at what the neighborhood and hotel needed -- something that hotel guests would want and was different from what was available in the neighborhood. Not another steakhouse, Asian restaurant or Italian place. We tossed around lots of different ideas and the theme of American struck home.
Then we tried to define an American restaurant and food, which I could only define through my own experiences growing up in Chicago and eating the foods of my neighborhood. I grew up in an Irish, Italian, Mexican neighborhood with a little bit of Eastern European, Polish and Lithuanian food next to Greektown and Chinatown. My grandmother cooked Polish, my best friends were off the boat Sicilian and another owned a Chinese takeout joint. Every Little League banquet was in Chinatown and all of our family events were in Greektown so that's what I grew up eating. One of my first girlfriends had a Mexican restaurant that's still on Archer. I don't think pot roast and apple pie for American food. I think arancini, which I learned to make from my friend's mom and steak tacos and dim sum.
Through that Chicago attitude, I wanted to have something that separated us and made us distinct among modern American restaurants, so we focused on Chicago neighborhoods and food. The hot dog was a perfect example of a mass market proletarian food item that we could take and elevate through technique and presentation so you were comfortable walking into a luxury hotel and ordering it. We decided to make everything. We wouldn't buy the ingredients, we would make them ourselves…except the plate.
How did the economy impact Allium?
Kevin Hickey: I think the restaurant industry is feeling the least of the economy lately and I don't think it's made people go out less and order less. But they want options, starting from a reasonable price point and going up. We have high price points on some items and very low on others. We give them options if they don't want to spend a lot of money. They can order the crab fritters for $12 or the steak frites for $24 and while that's not cheap, it's considerably less from previous price points. Or they can get snacks for $3 dollars and a $14 hot dog. It's a greatly reduced price point than previously offered.
Also, the décor and layout is fresher, brighter and more comfortable. It's less old world and stiff. The artwork and lighting are key to a successful dining space. When the section was created in 1989, the emphasis on lighting wasn't there. Now it adds atmosphere to a room, shines a spotlight on the food and it makes everyone look great. I had no idea how important that was, but people started telling me how much they liked it and ladies look like a million bucks. It was an effect I don't think we expected.
What was your goal in rebranding the restaurant and how will you measure success?
Kevin Hickey: Lots of people! That's all. We've been doing a great job for years with Seasons, but we were playing the art-house circuit and getting small groups of critical praise and fans, but now we want to sell out stadiums. We want to fill the room, get people to come and enjoy it, have fun. Now it's louder and the median age of guests has shifted. The volume is up and now we have atmosphere. We toyed with this for years, but it takes a long time to finally do it. We had a serious plan in place three to four years ago and it evolved, and then finally happened. There were many different incarnations.
What are the challenges of launching a new restaurant in an established property and how do you overcome them?
Kevin Hickey: There are so many challenges. It's more like re-launching and changing. You have somewhat of a built-in clientele with expectations, but you want to reinvent yourself with all the same people. That was a challenge. We didn't bring in a new crew or new clientele. That's not how it works. It's the same building and hotel with the same people coming in for lunch from day one to day two, but things they've ordered for years are gone. Wait staff have been accustomed to serving people a certain way for years and now it's new service and a new style of dining. How do you get a waiter of 24 years to change their style?
It's not just about Seasons. We had three dining areas: Seasons for fine dining, a café/bistro area with simple hotel fare and a bar lounge. Now we've combined into one restaurant. It's not just former Seasons customers who enjoyed sedate, quiet old world service; its people who came for a Cobb salad and it's not there anymore. How do you deal with core clientele who weren't enough to sustain the restaurant, but you want to keep them happy and coming back? You still want to stay true to your new concept without diluting it.
So I'll let you know eventually if we've succeeded, but we're only 10 weeks in. We've seen a slow and steady increase since we've reopened and hopefully it will continue so we can please our old guests and excite new guests.
Where did you find inspiration for Allium?
Kevin Hickey: We wanted to create an American restaurant. I haven't said anything about farm to table because in Chicago it's important, but who isn't doing it? Our menu is driven by farmers and what's in season. I know the farmers, their family, their kids and what they're feeding the animals.
We had many, many names for the restaurant. We wanted it to be one word and something that evoked Chicago and plays to our concept. Allium came up quickly because it's Latin for onion and Chicago is a Native American name for a wild onion that grew along the banks of the river. It's a vegetable and we're vegetable-driven. The logo resembles the Chicago skyline. Also, whenever we did promotions with other restaurants or events, the name "Seasons" was listed last. Now we're first with the letter "A."
Rachel Gillman has an insatiable appetite for dining out and an obsession with the restaurant industry. She's also fascinated by entrepreneurs and enjoys uncovering the story behind building a business from scratch. You can follow her on Twitter @RachelGillman.