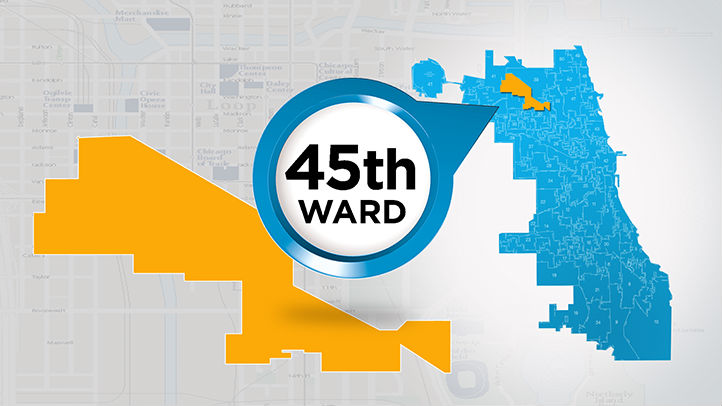 NBC Chicago and Ward Room bring you profiles on the 18 wards heading into a runoff election April 7. In this profile, learn all about the 45th Ward.
45th Ward – John Arena (incumbent) vs. John Garrido
Issues at Stake in Runoff:
William "Brian" Wardman, vice president of the Jefferson Park Neighborhood Association, lists six issues of concern within the community:
Community Input – This goes beyond participatory budget. Our elected official should strive for community input from the beginning on changes that will affect our neighborhoods; it should not be an after-thought.
City Services – There is a need to have consistent city services. For example, trees were not trimmed until this year, an election year. Pot holes need to be fixed before the next winter sets in.
Change in Density -- The side streets of the 45th Ward consist predominantly single family and two flat homes. We want to maintain that family friendly environment where we are a destination to raise families. Increasing the density to multi-unit buildings (which would require up-zoning) is not acceptable to the majority of the neighbors of the 45th Ward.
Education – Schools within the 45th Ward have challenges of overcrowding. The Alderman has to work with the City Council and the Chicago Board of Education to help alleviate this situation.
Business District Growth – In the last four years the 45th Ward has lost more businesses than it has gained.

Alderman needs to have the foresight to attract businesses and make it possible for them to be successful. He should not allow developers to use their property illegally by parking vehicles on open lots; this discourages new businesses from moving in. Work with the City Council and Mayor to provide temporary tax breaks for new businesses.
Wardman also believes that voter turnout will be "slightly higher" than the Feb. 24 election due to there being a two-person race for both mayoral and aldermanic offices.
Education: Northern Illinois University (B.F.A.)
Occupation: 45th Ward Alderman
Endorsements: Chicago Tribune, Chicago Sun-Times, Cook County Board President Toni Preckwinkle, Cook County Clerk David Orr, Citizen Action Illinois, Democracy for America, United Working Families, Chicago Teachers Union, Planned Parenthood Illinois Action
Key Issues: Economic development, infrastructure, responsive and transparent ward office, education, public safety
Education: John Marshall Law School (J.D.)
Occupation: Chicago police lieutenant and attorney
Endorsements: Illinois Herald
Key Issues: Participatory budgeting, economic development, public safety, aldermanic accountability, Tax Increment Financing (TIF) reform
General information:
Voter Turnout on Feb. 24: 42 percent
How did they vote in the mayor's race?
Rahm Emanuel: 48 percent
Jesus "Chuy" Garcia: 34 percent
Bob Fioretti: 12 percent
Demographics
Total population: 55,967
White: 64.34 percent
Black: 1.88 percent
Hispanic: 24.54 percent
Asian: 8.23 percent (Source: WBEZ)
Neighborhoods: Old Irving Park, Portage Park, Jefferson Park and Norwood Park
Adjectives that Describe the Ward: Safe, family-friendly and quiet
How Ward Typically Votes: John Arena has been alderman of the 45th Ward since 2011 when he won 50.1 percent of the vote, defeating John Garrido by 30 votes in a runoff. Prior to Arena's election, Patrick Levar was alderman for 24 years; he retired in 2011. Levar won 56 percent of the vote in 2007, defeating Terrence Boyke (31 percent) and two other challengers.