Investigators are trying to determine what caused an explosion that destroyed a New Lenox home Monday.
It happened at a house in the 700 block of Lambeth Lane at about 2 p.m.
The explosion occurred on the north side of the home, blowing out a wall.
A couple and five young children lived in house, but nobody was home at the time of the explosion.
"You gotta feel pretty lucky. I am very grateful. Any later and this would have been a far different story," said homeowner Natalie Klimala, happy that the explosion occurred before her kids arrived home from school.
A gas leak is the suspected cause of the fire, and a new furnace may be to blame for the incident.
"We're kind of leaning in that direction because it was just replaced on the 13th of February ... $6,000 unit, and who knows if that could have been the cause," said Natalie's father, Bill Slama. "I was there yesterday there was no smell no odor no nothing."
Neighbor Paul Negri shot video from his cell phone moments after the explosion occurred.
"The sofa from the house that blew up landed in the neighbor's house to the north, and one of the cushions from that sofa landed on the roof of that home, and the picture window blew out across the street and landed on the parkway," Negri said.
Now only a gazebo and a trampoline are still standing on the house lot. Alcohol, Tobacco and Firearms officials are investigating the scene.
The homeowner's association here has already collected clothes for the mother father and kids who've all found shelter with relatives and friends.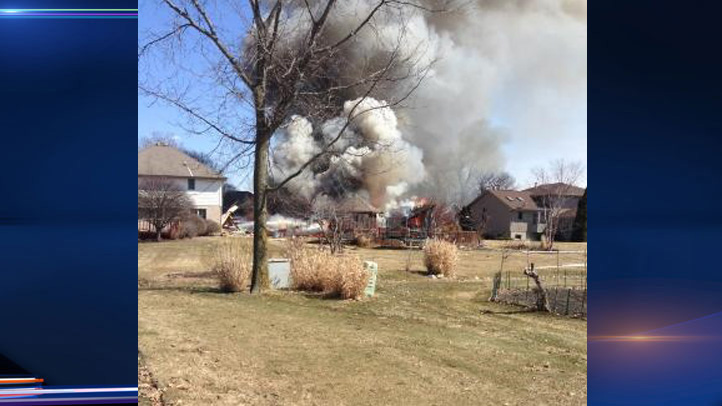 Published at 4:28 PM CDT on Mar 24, 2014 | Updated at 5:56 AM CDT on Mar 25, 2014