Protests are expected Thursday after news broke that the Chicago police officer charged in the death of 17-year-old Laquan McDonald has been hired by the police union as a janitor and "jack-of-all-trades."
Officer Jason Van Dyke now makes $12 an hour at the Fraternal Order of Police hall in the city's West Loop, union president Dean Angelo told the Chicago Sun-Times Wednesday evening.
In a statement Thursday, the union said it reached a decision "weeks ago" to "assist the Van Dyke family."
"Due to the notoriety of the incident, the on-going threats of harm and intimidation and other issues caused him to become completely unemployable," Angelo said in a statement. "Furthermore, after several threats against the safety of his spouse and her clients his wife was forced to shut down her family-run business; resulting in zero household income."
Angelo added that it is not the first time the union has hired officers "forced into a no pay status" and said the decision was based on the "sustenance needs of a police officer and his family."
"For anyone to believe that the Lodge entered into this arrangement without consideration and forethought is improper and short sighted," the statement read. "Accuracy under these circumstances is paramount to truly grasping the significance to the decision made."
Over the past several months, Van Dyke has appeared in court numerous times to face a judge on first-degree murder charges stemming from the October 2014 shooting. Van Dyke is accused of firing 16 shots at McDonald, who was seen on surveillance video walking away from police.
Van Dyke has pleaded not guilty and his attorney has requested a change of venue, arguing it's impossible for his client to have a fair trial in Cook County.
Officer Jason Van Dyke Hired by Police Union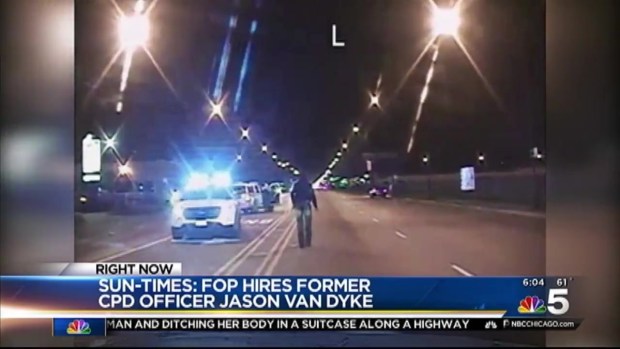 Already there has been heavy pushback against Van Dyke's new role. Father Michael Pfleger, a Roman Catholic priest and social activist, took to Facebook late Wednesday after news of the hiring broke. His heated post calling the move a "disgrace" and arguing that every union member should demand he be fired garnered more than 1,000 shares in just 10 hours.
"The Police Union says to Chicago...we don't give a damn what he did, what you think, he is one of ours, and we are going to take care of him," he wrote.
Other activists followed suit, planning demonstrations for outside the FOP at both noon and 6:30 p.m.
"Officers under that uniform are regular people," activist Ja'mal Green said at the noon protest. "If I killed someone, I wouldn't get bail, I wouldn't get bail. If I killed someone I don't have a union to make sure that I'm employed."
Some groups called for Van Dyke to be fired immediately and for the union to issue an apology.
"Chicago's going to get tired of doing these marches and being peaceful," Green said. "We have been peaceful over the last four months, we have made statement and we have made change but at the end of the day the residents are tired of these types of decisions, getting slapped in the face."
Soon after, protesters were seen trying to enter the FOP office, but a line of police officers blocked the entrance.
"The F.O.P. just declared war with the people of Chicago," wrote Jedidiah Brown. "The ultimate slap in the face is to hire a man who shot a child sixteen times."
The F.O.P. just declared war with the people of Chicago. The ultimate slap in the face is to hire a man who shot a child sixteen times

— Jedidiah Brown (@livelifefreed) March 31, 2016
Meet at 6:30pm @ 1412 W Washington Blvd, Chicago, F.O.P hired Jason Van dyke who shot a child sixteen times. We are not having it!!!!!

— Jedidiah Brown (@livelifefreed) March 31, 2016
Prosecutor Bill Delaney had asked that Van Dyke remain held without bond on Nov. 30, 2015, but the judge rejected that, saying everyone is presumed innocent. He set Van Dyke's bail at $1.5 million. Five hours later, Van Dyke posted bond and walked out of jail.
Van Dyke is currently stripped of his police powers and is on unpaid status. His new job is considered to be at a level slightly higher than that of a typical security guard, according to the Sun-Times.
"He might be on the roof, he might be in the office, he does anything we need," Angelo told the newspaper, adding that the hiring of Van Dyke is not an unprecedented move.
"We've probably had 100 people in no-pay status who we got jobs or hired at the hall," he told the Sun-Times. "This is nothing new."
In an interview with The Associated Press, Angelo said Van Dyke's suspension has been a "very difficult situation, financially" for the husband and father, adding that the union would do the same for any CPD officer.
Van Dyke had been turned down for all other jobs, Angelo said, and his wife's business had to close its doors due to an onslaught of threats against the officer and his family.