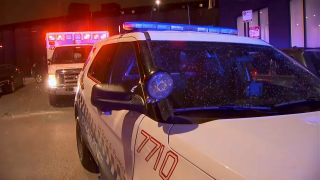 Chicago police say that five people, including a 16-year-old girl, were seriously injured after a fight led to an explosion of gunfire in the city's Lawndale neighborhood.
According to police, a group of people were standing on a sidewalk in the 800 block of South Karlov Avenue at approximately 1:32 a.m. Sunday when a large fight broke out.
During that altercation, someone began firing a weapon, and five people were ultimately struck by gunfire.
A 16-year-old girl was shot in the back, and she was taken to an area hospital in serious condition, police said.
Two 21-year-old men were shot in the left side, and both were taken to area hospitals in serious condition. A 21-year-old woman was shot in the left arm, and a 33-year-old man was shot in the face. Both were also hospitalized in serious condition.
There are currently no suspects in custody, and Chicago police are continuing to investigate the incident.