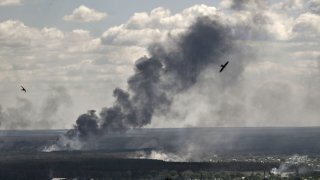 This has been CNBC's live blog covering updates on the war in Ukraine. [Follow the latest updates here.]
Ukraine's President Volodymyr Zelenskyy has said the battle for Severodonetsk may decide the outcome of the east of Ukraine. He described the fierce fighting seen in the strategically important Donbas city as "probably one of the most difficult throughout this war."
The Donbas region refers to the Donetsk and Luhansk provinces in the easternmost part of Ukraine. It is a major strategic, political and economic target for the Kremlin.
The United Nations has warned the ripple effects caused by Russia's invasion of Ukraine have generated a severe cost-of-living crisis that no country or community can escape.
U.N. trade chief Rebeca Grynspan says the current food crisis "may rapidly turn into a food catastrophe of global proportions in 2023."
Zelenskyy discusses EU membership with Macron
Ukrainian President Volodymyr Zelenskyy spoke to French President Emmanuel Macron, and they discussed Kyiv's entry into the European Union amid Russia's ongoing war in Ukraine.
In April, Zelenskyy completed the first step in obtaining European Union membership for Ukraine by submitting a lengthy questionnaire.
The two leaders also discussed the latest developments on the ground and additional French security assistance for Ukraine, according to an Elysee Palace readout of the call.
— Amanda Macias
A look at NATO air power and patrols near Ukraine
Since Russia's late February invasion, the NATO alliance has placed approximately 30 military aircraft on patrol over the skies near Ukraine at all times.
"Spanish jets guard Lithuania's airspace and France surveillance planes scan the skies while U.S. bombers train with Allied air forces," wrote NATO spokeswoman Oana Lungescu.
"In order to deter any potential aggression against Allies, NATO is deploying an unprecedented mix of fighter jets, reconnaissance aircraft and support planes," she added.
Here's a look at the airpower the alliance deployed to the region:
— Amanda Macias
Ukrainian troops hold the front line in the Donetsk region
Ukrainian soldiers hold the line in New York in the eastern Donetsk region.
— Gleb Garanich | Reuters
U.S. Senate panel backs Finland, Sweden NATO membership
A resolution urging NATO to quickly admit Finland and Sweden won easy passage in the U.S. Senate Foreign Relations Committee, in a signal of bipartisan support from lawmakers.
Democrats and Republicans on the committee approved the measure supporting the expansion and urging other NATO states to swiftly admit the two Nordic states by voice vote, with no voiced objections.
The vote had been seen as a test of Republican lawmakers' stand on the expansion, which President Joe Biden has thrown his support behind.
Russia's invasion of Ukraine prompted Finland and Sweden to end longstanding policies of military non-alignment and apply to join the 30-member U.S. and European defensive alliance. Biden encouraged the two countries' application and welcomed their leaders to the White House in May to celebrate it.
Unexpected opposition from NATO member Turkey has clouded what had been expected to be quick ascension to the bloc by the two countries. Turkey says it objects to the two countries' stances regarding the Middle East's Kurdish minority.
— Associated Press
Pro-Russia rebel court sentences 3 people to death
A court in separatist-controlled territory of eastern Ukraine sentenced two British citizens and a Moroccan man to death for fighting on Ukraine's side in the war with Russia.
The three men fought alongside Ukrainian troops and surrendered to Russian forces weeks ago.
A court in the self-proclaimed Donetsk People's Republic found them guilty of taking action toward a violent overthrow of power, an offense punishable by death in the internationally unrecognized rebel-held territory in Ukraine's Donbas region.
The three were also convicted of mercenary activities and terrorism.
Russian state news agency RIA Novosti reported Thursday that the three — Aiden Aslin, Shaun Pinner and Saaudun Brahim — are set to face a firing squad. They have a month to appeal.
— Associated Press
One doctor, little food, no power: In eastern Ukraine, locals face life without security
SIVERSK, Ukraine — A small Ukrainian town just miles from where Russian forces are fighting for control of one of the last holdout cities in the Donbas has been without power for weeks, residents wait for food to be brought in by volunteers, only one doctor and nurse remain at the hospital and cellphone reception is limited to a single spot. 
After more than 100 days of fighting, parts of Ukraine are returning to some semblance of normalcy but on the front lines, people are suffering as Russian forces continue to advance in the east. The Kremlin's forces now control 20 percent of Ukrainian territory as they continue to fight for control of Sievierodonetsk, an industrial city in the Donbas region.
— NBC News
UN says at least 4,302 killed in Ukraine since start of war
The United Nations has confirmed 4,302 civilian deaths and 5,217 injuries in Ukraine since Russia invaded its ex-Soviet neighbor on Feb. 24.
The Office of the U.N. High Commissioner for Human Rights said the death toll in Ukraine is likely higher, because the armed conflict can delay fatality reports.
The international organization said most of the civilian casualties recorded were caused by the use of explosive weapons with a wide impact area, including shelling from heavy artillery and multiple launch rocket systems, as well as missiles and airstrikes.
— Amanda Macias
Russia does not expect to cut gas to more European customers
Russia said on Thursday it did not expect Gazprom to cut gas supplies to any more European customers and said its scheme to make buyers pay for gas in roubles was working as planned.
Gazprom has cut supplies to Denmark's Orsted and to Shell Energy for its contract to supply gas to Germany, as well as to Dutch gas trader GasTerra along with Bulgaria, Poland and Finland for refusing to make payments for Russian gas in roubles under the new rouble scheme.
Gas payments under the new scheme, set up in response to Western sanctions, were due in April and May.
Kremlin spokesman Dmitry Peskov said everyone who was to be cut off from supplies was now not receiving Russian gas.
"The system is functioning ... and whose who receive the gas are working under the new system," Peskov told his daily conference call with reporters.
Asked whether new gas cuts should be expected, he said: "No."
— Reuters
Zelenskyy: Millions of people could starve if Russia's Black Sea blockade continues
Ukraine's President Volodymyr Zelenskyy has warned that millions of people could starve if Russia's blockade of the Black Sea continues, adding that the world is on the brink of a "terrible food crisis."
The Kremlin has been accused of weaponizing food supplies by blocking Ukraine's exports and ratcheting up the cost of grain. Ukraine has also accused Russia of laying mines in the Black Sea.
Russia, for its part, has disputed these claims, saying Ukraine is responsible for the mines at sea which — combined with an unprecedented barrage of international sanctions — are to blame.
"We cannot export our wheat, corn, vegetable oil and other products that have played a stabilizing role in the global market," Zelenskyy said in a video statement to the TIME100 Gala.
"This means that, unfortunately, dozens of countries may face a physical shortage of food. Millions of people may starve if Russia's blockade of the Black Sea continues."
The United Nations' Food and Agricultural Organisation has said a blockade of Black Sea ports means the world's most vulnerable countries are paying more for less food. U.N. chief Antonio Guterres has said a trade deal to allow grain exports from Ukraine through the Black Sea could avert mass hunger.
— Sam Meredith
Mayor of Severodonetsk says evacuation attempts are impossible for now
The mayor of Severodonetsk has described the situation in the eastern Ukrainian city as "quite complicated but controlled" after a night of heavy artillery fire from Russian forces.
Speaking to Ukrainian television, Oleksandr Stryuk said the bridges between Lysychansk and Severodonetsk "are under constant shelling."
"The evacuation is impossible for now," Stryuk said, according to a translation. "It is possible to get to Lysychansk, as the 'road of life' is controlled by Armed Forces of Ukraine, but it's under constant shelling."
Ukraine's President Volodymyr Zelenskyy has said the battle for Severodonetsk may decide the outcome of the east of Ukraine.
— Sam Meredith
Russian forces seen targeting south of Izium in eastern Ukraine
The U.K.'s Ministry of Defense says Russian forces have likely increased their efforts to advance to the south of Izium while fighting continues in Severodonetsk.
"Russia's progress on the Izium axis had remained stalled since April, after Ukrainian forces made good use of the terrain to slow Russia's advance," the ministry said in its latest intelligence update.
"Russia has likely attempted to reconstitute [the Eastern Group of Forces] after they suffered very heavy casualties in the failed advance on Kyiv, but its units likely remain understrength. Russia likely seeks to regain momentum in this area in order to put further pressure on Sieverodonetsk, and to give it the option of advancing deeper into the Donetsk Oblast," it added.
— Sam Meredith
Russian forces control most of Severodonetsk, regional governor says
Russian forces are in control of most of the city of Severodonetsk in eastern Ukraine and are heavily shelling the nearby city of Lysychansk, according to the governor of the Luhansk region.
In an online post, Serhiy Haidai said Ukrainian troops in the Luhansk region are not under threat of encirclement.
Russian forces temporarily control more than 90% of the region, he added.
— Sam Meredith
Zelenskyy says fighting in Severodonetsk could decide the fate of east Ukraine
Ukrainian President Volodymyr Zelenskyy said that fighting for control of the city of Severodonetsk may decide the outcome of the conflict with Russian forces in the east of the country.
"According to the results of this day, the 105th day of the full-scale war, Severodonetsk remains the epicenter of the confrontation in Donbas. We defend our positions, inflict significant losses on the enemy," Zelenskyy said via Telegram, according to a translation.
"This is a very fierce battle, very difficult. Probably one of the most difficult throughout this war. I am grateful to everyone who defends this direction. In many ways, the fate of our Donbas is being decided there."
— Sam Meredith
UN chief says trade deal could avert mass hunger
The United Nations is pursuing a deal that would allow grain exports from Ukraine through the Black Sea and unimpeded access to world markets for Russian food and fertilizers.
Secretary-General Antonio Guterres told U.N. correspondents on Wednesday that without the deal hundreds of millions of people in developing countries face the threat of an unprecedented wave of hunger, three months after Russia invaded its smaller neighbor.
Guterres said, "Ukraine's food production and the food and fertilizer produced by Russia must be brought into world markets, despite the war."
Senior officials have been working closely with contacts in Moscow, Kyiv, Ankara, Brussels and Washington for the past 10 days, Guterres said. He said he didn't want to jeopardize the chances of success by revealing details.
"This is one of those moments when silent diplomacy is necessary, and the welfare of millions of people around the world could depend on it," he said.
— Associated Press
Biden reaffirms U.S. support in phone call with Polish president
President Joe Biden spoke with Polish President Andrzej Duda and reaffirmed U.S. commitment to bolster security along Poland's borders, the White House said in a readout of the call.
"They also discussed their ongoing support for the people and government of Ukraine in response to Russian aggression," the readout said.
Biden last met with Duda in March during a high-profile trip to Poland.
— Amanda Macias
Ukraine might be about to pull back from a key eastern city
Ukrainian troops may soon have to retreat from a key eastern city, the region's governor and Western military analysts said Wednesday, as Russian advances force them back.
The street-by-street battle for Sievierodonetsk has become the focus of the conflict in recent weeks, with Russia slowly advancing toward its larger goal to take full control of the industrial Donbas region.
The last major city still under Ukrainian control in the Luhansk province — which together with neighboring Donetsk makes up the Donbas — has been pummeled by artillery in a back-and-forth fight that remains hard to decipher. Kyiv said a counteroffensive over the weekend had helped its forces regain some ground, but the situation appears to have deteriorated further since then.
Satellite imagery released by U.S. defense contractor Maxar Technologies on Wednesday appeared to show what it said was "significant damage" in Sievierodonetsk and nearby areas amid fears that the city could be turned into a new Mariupol, the key port that was besieged by the Russians and left in ruins by relentless fighting.
— NBC News
Read CNBC's previous live coverage here:
Zelenskyy asks U.S. corporate leaders to move companies out of Russia; Biden speaks to Poland's Duda
Copyright CNBCs - CNBC