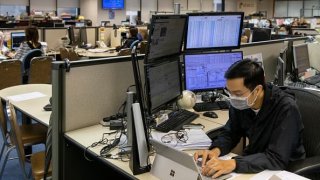 Most Asia-Pacific markets fell in Thursday trade, as major indexes in Hong Kong and India declined more than 2% each.
Shares of Chinese tech behemoth Tencent plunged 6.51% after reporting that its quarterly profit halved.
Major indexes on Wall Street declined more than 3.5% each overnight, with the Dow Jones Industrial Average closing at its lowest since March 2021.
SINGAPORE — Most Asia-Pacific markets fell sharply in Thursday trade after heavy losses on Wall Street overnight.
Hong Kong's Hang Seng index was among the biggest losers regionally, falling 2.54% to close at 20,120.68. Shares of Chinese tech behemoth Tencent plunged 6.51% after reporting that its quarterly profit halved.
Other Chinese tech stocks in Hong Kong also saw heavy losses, with Alibaba falling 7.39% while Meituan shed 3.78%. The Hang Seng Tech index slipped 3.98% to 4,090.72.
Shares in India also saw sizable losses, with the Nifty 50 and BSE Sensex both falling more than 2% each, as of 1:48 p.m. local time.
The Nikkei 225 in Japan fell 1.89% to close at 26,402.84 while the Topix index shed 1.31% to 1,860.08. Japan's exports rose 12.5% year-on-year in April, data from the country's Ministry of Finance showed Thursday. That was lower than expectations for a 13.8% increase, according to Reuters.
South Korea's Kospi dropped 1.28% on the day to 2,592.34, while the S&P/ASX 200 in Australia slipped 1.65% to close at 7,064.50.
Mainland Chinese stocks bucked the overall trend regionally as they closed higher, with the Shanghai Composite climbing 0.36% to 3,096.96 while the Shenzhen Component gained 0.375% to 11,250.06.
MSCI's broadest index of Asia-Pacific shares outside Japan declined 2.17%.
There's currently a "bifurcation" in market sentiment, said AIA's Mark Konyn.
"On one hand, investors are sort of worried that inflation is going to take hold and hurt earnings, and change the rating on equity markets, which is obviously very damaging for investors. But on the other hand, they're equally as concerned about growth opportunities," Konyn, group chief investment officer at the firm, told CNBC's "Squawk Box Asia" on Thursday.
"As we saw last night, we saw guidance from Target, we've seen guidance from Walmart suggesting that margins are under pressure and immediately investors ran for the hills," he said.
UOB Private Bank Investment Strategist, Francis Tan, said sentiment is likely playing a much bigger role than fundamentals in the markets currently.
"We have seen that the markets consistently have been looking for things to be negative on," Tan told CNBC's "Street Signs Asia" on Thursday. He added that fundamentals in Asia — much stronger today as compared with two or three decades ago — are likely to eventually prevail.
Major indexes on Wall Street tumbled, with the Dow Jones Industrial Average closing at its lowest since March 2021. The Dow dropped 1,164.52 points, or 3.57%, to 31,490.07.
The S&P 500 slipped 4.04% to 4,923.68, while the tech-heavy Nasdaq Composite fell 4.73% to 11,418.15.
Australia's seasonally adjusted unemployment rate for April was at 3.9%, data from the Australian Bureau of Statistics showed Thursday.
"3.9 per cent is the lowest the unemployment rate has been in the monthly survey. The last time the unemployment rate was lower than this was in August 1974, when the survey was quarterly," Bjorn Jarvis, head of labor statistics at the ABS, said in a release.
Currencies and oil
The U.S. dollar index, which tracks the greenback against a basket of its peers, was at 103.683 — off levels below 103.5 seen earlier in the week.
The Japanese yen traded at 128.10 per dollar, still stronger than levels above 129 seen yesterday against the greenback. The Australian dollar was at $0.6981, against an earlier high of $0.7023.
Oil prices were lower in the afternoon of Asia trading hours, with international benchmark Brent crude futures down 0.14% to $108.96 per barrel. U.S. crude futures slipped 0.67% to $108.86 per barrel.
Copyright CNBC