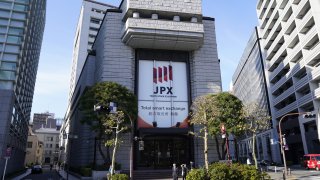 Shares in Asia-Pacific mostly declined on Friday after a comeback on Wall Street as investors continued to digest the Fed's plans to fight inflation.
Major stock indexes in the U.S. reversed losses to rise slightly at the close, led by defensive stocks.
SINGAPORE — Shares in Asia-Pacific were mixed on Friday, as Chinese tech shares slipped and investors watched the Covid situation in China.
Hong Kong's Hang Seng index fell 0.24% in afternoon trade, while the Hang Seng Tech index dropped 1.83%. Alibaba slid 2.47%, while JD.com shed 3.35%. Meituan lost 2.70%.
Mainland Chinese markets were mixed. The Shanghai composite gained 0.47% to close at 3,251.85, while the Shenzhen component was down 0.11% at 11,959.27.
Covid is in focus in China, with Shanghai reporting 20,398 new asymptomatic coronavirus cases and 824 new symptomatic cases on April 7. The city is under a strict lockdown in a bid to stop the spread of the virus.
"Near-term sentiment [for Chinese shares] could stay curbed given a confluence of macro headwinds, Omicron spread, global liquidity uncertainty and US/China tension concerns," according to a Morgan Stanley note dated April 7.
The bank's analysts also noted that domestic consumption in China is sluggish, and said the sporadic spread of the virus beyond Shanghai could lead to tightening measures in other places.
Japan's Nikkei 225 gained 0.36% to 26,985.80, while the Topix inched up 0.21% to 1,896.79. Both indexes struggled for direction.
In South Korea, the Kospi advanced 0.17% to close at 2,700.39, and the Kosdaq rose 0.73% to 934.73.
Australia's S&P/ASX 200 was up 0.47% at 7,478.
The biggest headwind for Asia markets currently comes from the U.S., where markets are responding to hawkish signals from the Fed, said Julia Wang, a global market strategist at JPMorgan Private Bank.
"The Fed is looking at inflation data that obviously [is] causing them some concern, and I think that is translating into weaker risk appetite here in Asia," she told CNBC's "Street Signs Asia" on Friday.
Until that situation changes, inflation in the U.S. will weigh on market sentiment in Asia, she said.
Major stock indexes in the U.S. reversed losses to rise slightly at the close.
The Dow Jones Industrial Average gained 87.06 points, or 0.25%, to 34,583.57 after losing as much as 300 points earlier in the session. The S&P 500 was up 0.43% at 4,500.21, and the Nasdaq Composite inched up 0.06% to 13,897.30 following two straight days of losses.
Defensive stocks such as consumer staples and health care led the market comeback.
"The reaction to the Fed minutes early yesterday morning continued to dominate markets overnight," Taylor Nugent, an economist at the National Australia Bank, wrote in a note.
Weekly jobless claims in the U.S. fell to 166,000 last week, the lowest number in more than 53 years.
The 10-year Treasury yield touched 2.667%, its highest level since March 2019. It then pulled back and was last at 2.6584%.
Elsewhere, the Reserve Bank of India will meet for the last day of its monetary policy meetings. Economists predict that interest rates will only rise in August, according to a Reuters poll.
Currencies
The U.S. dollar index, which tracks the greenback against a basket of its peers, strengthened to 99.972.
The Japanese yen traded at 124.05 per dollar, while the Australian dollar was at $0.7458.
Oil futures flipped back to positive territory in the afternoon in Asia.
U.S. crude futures gained 0.4% to trade at $96.41 per barrel, while international benchmark Brent crude futures gained 0.26% to $100.84 per barrel.
Copyright CNBC