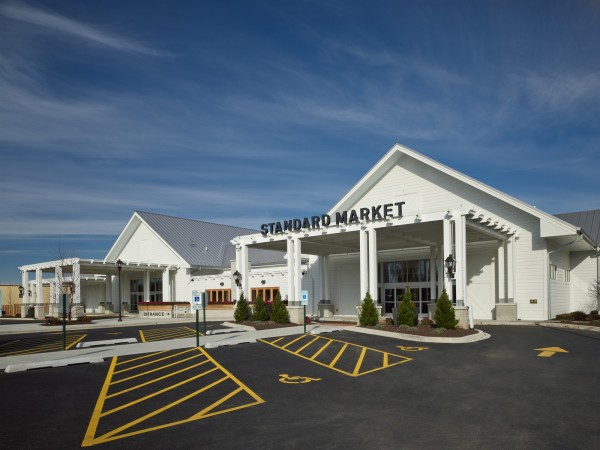 If you grew up in this area, it might be hard to make room in your brain for a grocery store that isn't Jewel-Osco or Dominick's. Chances are if you know any others, it's Whole Foods and Trader Joe's. Or, if you really want to try to go for something less "corporate," maybe Fox & Obels or Southtown Grocery and Café. Fact is, there a lot of grocery stores out there. It's just hard for them to poke through and get themselves noticed.
That didn't stop Standard Market, out in Westmont, from giving it a shot. Which is impressive, in many ways, because it's their first foray into the retail space. Started in November 2011, the store has set itself apart by having a restaurant, the Standard Grill, that actually makes dishes from the very same ingredients and items sold in the store. To find out more about how Standard Market keeps pace against the bigger stores, I gave Ken Tsang, the store's director of technology and marketing a call.
What was the thinking behind building a restaurant into your grocery store?
Ken Tsang: Well, the restaurant was there from the beginning. It was an integral part of the store. For us, instead of having aisles and aisles in the center of the store, we have this restaurant, Standard Grill, which is sort of a showcase for the abundance in the chef count in our store. We wanted a way to show off the ingredients that we had in the store. One of tenets of the store is we try to do as much as we can in-house, so, all the bread we bake everyday is made from scratch by our bakers. All the beef is ground fresh daily. And that goes for everything else that we serve in our restaurant.
How else do you guys differentiate yourselves in the market in general?
Ken Tsang: We're real focused on housemade items, where we're gonna do as much as we can ourselves and have a higher quality we can control. So, things like sauces and guacamole we'll make in-house, we'll cut our own fruit and vegetables in-house. Even in our deli, for example, all the chicken salads, tuna salads we're making onsite in our kitchen. And it's not just typical fare, deli fare, light chicken and tuna salad, but also more chef-inspired options.
What benchmarks you're hoping to hit by the time you're a year old? Are there any?
Ken Tsang: We don't have goals like "10 stores in 10 years." That's not our approach. We really want to grow as growth allows and do a good job with the stores that we have open and look for good opportunities to expand. This is our first venture into the retail space and it's the kind of thing where we want to be very thoughtful about it and find the right opportunities and do a good job with our expansion. Not grow like crazy and struggling to maintain it. One step at a time.
Because this is your first time in the retail space, have there been any unexpected bumps in the road or surprises you didn't predict?
Ken Tsang: No, actually, I think that we knew this wasn't gonna be easy in getting people to change their shopping habits. It's difficult. But just having patience, I think, and working to get the word out, understanding customers, is just what we've been doing and taking our time with it. It does take time to get people to change their habits, especially in something like food shopping. People are so used to going to the same place for 30, 40 years, and being a new option out there, you just have to keep being in the face of the consumer. We've had events, weekly events, just things to get people to come into the store and draw them in. That's been our approach. There's hurdles everyday just trying to make sure we do a good job of what we're producing and making sure customers come in, but nothing unexpected.
Why did you select Westmont as the location for your first endeavor?
Ken Tsang: Sure. Well, there some ties to the local area from some of the partners behind the venture. That was an area they were familiar with. Ogden Avenue in particular was very attractive because there's a lot of traffic that traverses that particular stretch daily. Something like 40,000 cars a day. It was an opportunity because it just wasn't necessarily a strong independent player in this neck of the woods. DuPage county, especially the eastern side, just didn't really have a strong, independent player. So we thought it'd be a good opportunity to introduce our new concept to the world.
I think the one thing is we always want to be conscious of what other folks are doing, but at the same time – our tact is we have to be consistent with what we're trying to do and not continue to compare ourselves to other people, because I think you can get into a trap where you are seeing what other stores are doing and trying to react to that. You want to be aware of it but at the same time you have to stick to what your message is and make sure you're consistent. What we're finding is that as long as we do a good job and we were true to what we believe in, we think customers will come around. But if we try to curry favor based on what other stores are doing – you can't keep chasing what others are doing if they've already done it. You have to innovate and try to get ahead.
David Wolinsky is a freelance writer and a lifelong Chicagoan. In addition to currently serving as an interviewer-writer for Adult Swim, he's also a comedy-writing instructor for Second City. He was the Chicago city editor for The Onion A.V. Club where he provided in-depth daily coverage of this city's bustling arts/entertainment scene for half a decade. When not playing video games for work he's thinking of dashing out to Chicago Diner, Pizano's, or Yummy Yummy. His first career aspirations were to be a game-show host.