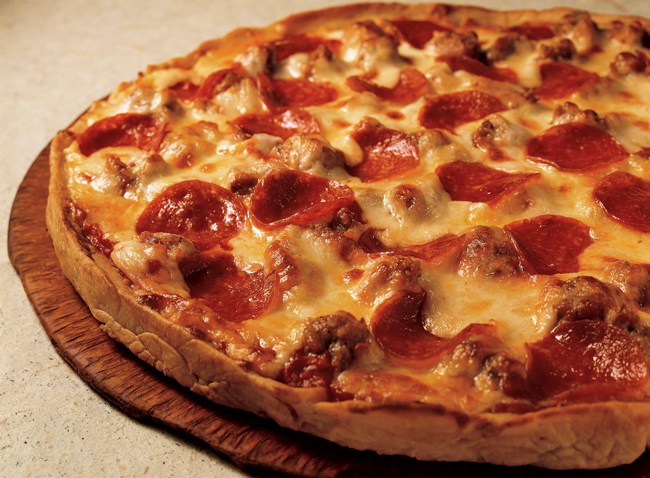 Regardless of who you think makes the best pizza in Chicago, if you've ever bought groceries here or craved one of those fancy Italian pies, you've undoubtedly heard of Home Run Inn. The company recently celebrated its 65th birthday, and in addition to being a restaurant, it's in groceries in 20 of these 50 states. But no where is its presence stronger than right here. Heck, in the last two decades, Joe Perrino, the CEO, has opened eight more pizzerias in the Chicagoland area, and is going to add a ninth in Beverly soon.
But the thing about Home Run Inn's success is it's totally plausible that some people have never been to the restaurants and only know of the company from its frozen pizzas. That's why I gave Perrino a call to discuss how they broke into that sector and how others can as well.
Logistically speaking, what's involved with expanding into the frozen foods market? How did you guys get into it?
Joe Perrino: Well, they're two totally different businesses even though it's in the same industry of pizza. Separate businesses have a function, what's needed to succeed in it, so what I'll start out with is that some people don't realize the history. We sometimes can appear to be an overnight, or overnight decade, success, My dad actually started in frozen pizzas in the 1950's, so when we started to produce frozen pizzas, it was a customer who gave us the idea back when there weren't refrigerators with freezers but when there were refrigerators with ice boxes. We eventually evolved into frozen pizzas, so the cost, the barrier to entry when we got into was minuscule. As we continued to develop more and more as far as the pizzas, what happened was the government came in and started to impose many of the restrictions as far as production and your way of operating. It's a long evolution process. The very first time we built our plant was in the 1980's, so it was a small plant we built behind our restaurant in Chicago and it was used as a commissary for frozen pizza production at the same time.
Since you've seen the rise of legislation and regulations affecting production, in your opinion, do you think companies are better equipped in the frozen food sector if they're familiar with the hold ways or not?
Joe Perrino: Many small companies try to go out without really understanding what's going to be involved, and once the government is involved it becomes a totally different ball game. So my advice for anyone attempting to do this, we were fortunate because we were one of the pioneers in frozen pizzas. Today, very, very high barriers of entry between your infrastructure buildings and most pizza companies that are out there won't manufacture their own pizzas. They'll go to somebody else and you basically use co-packers.
My plant basically produces all of our raw ingredients for our restaurants out of the same location and then half of the plant is support for restaurants and the other half is for frozen pizza production.
You talk about the barriers to entry. What sort of mistakes have you seen others make when trying to overcome those?
Joe Perrino: First of all, get a really good understanding of what it's going to take to do business the correct way. What happens is people will try to shortcut it and that's just on the infrastructure side. The other side is just trying to get it onto store shelves, which is itself an extremely high barrier to entry. Breaking through and doing business with retailers requires a tremendous amount of marketing dollars and support. Just the education process of really understanding what needs to happen in the business, whether it be pizza or any other entity that has USDA or FDA restrictions.
For pizza specifically, what criteria do you think businesses should meet first before they try to enter the frozen foods market? Obviously they'll need more than what you guys had at first: a customer requested it.
Joe Perrino: I would break it down into your infrastructure. Are you going to produce it yourself or have a co-packer do it? The easiest way for most companies starting is to have somebody else co-pack it for you. The downside to that is the co-packer has to operate on a certain amount of volume. If you don't have a very large volume of product to produce your costs are going to be either extremely high or the co-packer won't even take you. Then the next project is going to be what type of marketing support are you going to come in with for your retailers? When you're going to come in there you're going to have to put on a hefty mark-up to cover all your other expenses and what they'll expect in promotion, whether it be demos or ad money to support the product once it gets on the shelf. Those are the two ways I'd break it down. You really have to focus on how much capital you're going to have. Basically, reserves. I think the biggest mistake I see is that people come in and have no where near the amount of reserves that's going to be needed to succeed. They're pretty much doomed before they start because their capital isn't adequate to get into the industry.
Yeah, I can't imagine it's something you should enter into lightly.
Joe Perrino: It's a different world today. My competitors obviously have restaurants, so on the restaurant side I have pizza places on every corner. But in the frozen industry I have Nestle. [Laughs.] There's a huge difference between competing against a small entrepreneur and a multi-billion dollar company.
For your company, which is more lucrative: the frozen line or the restaurants?
Joe Perrino: The restaurants got us to the dance. I have tremendous respect for the restaurant industry. I believe that provides us with our market feedback, basically our focus groups, it gives us credibility, it creates brand awareness for us locally here in Chicago and we also have that in other parts of the country. We're a pizza company that's been around a long, long time. It also balances out, so when the market shifts and different things happen, the restaurants give us direct access to our consumer base, whereas with the retailers you have to go through the retailers to get to your consumer base. So a retailer could make a bad decision that could affect us and we have no control over it. However, on the other hand, our restaurants are our restaurants. We see those customers everyday and it creates that kind of direct connection to our customers that is not necessarily achieved in the retail market.
You just had a big anniversary. What goals do you hope to achieve by the end of 2012 or by the time your company turns 70?
Joe Perrino: You know, Dave, I think the big thing between a family business and a publicly held company? My focus is extremely long term. The No. 1 goal that I would love to achieve, and I'm 58 years old, is to have a successful family business with family members engaging in the company, which I have five right now, having them take over the reins of the company with their ideas, their passion and continuing and growing. Do I have specific numbers? I don't see my business as "I have to hit this number, I have to hit that number." It's pretty simple. This sometimes frustrates my kids because they all came out of business schools. "What's our five-year strategy?" And I always say, "My goal is to sell more pizzas the next day than I did the last day and to treat our customers with respect and serve them the highest quality pizzas."
Well, speaking of selling more pizzas, I would be remiss if I didn't bring to your attention the Facebook group dedicated to requesting you guys bring back the tomato plum pizza.
Joe Perrino: [Laughs.] Yeah, yeah. Here's what happened with that one. First of all it was never a huge seller. It was less than five percent of our frozen pizza sales. It was a great pizza.
David Wolinsky is a freelance writer and a lifelong Chicagoan. In addition to currently serving as an interviewer-writer for Adult Swim, he's also a columnist for EGM. He was the Chicago city editor for The Onion A.V. Club where he provided in-depth daily coverage of this city's bustling arts/entertainment scene for half a decade. When not playing video games for work he's thinking of dashing out to Chicago Diner, Pizano's, or Yummy Yummy. His first career aspirations were to be a game-show host.