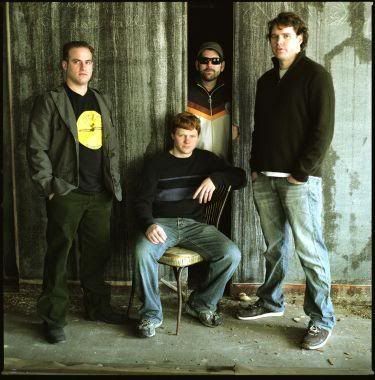 Philadelphia's The Disco Biscuits got their start playing the party scene at UPenn in the mid-90's. Now over a decade later, they've created a loyal, dedicated fan base of die-hards touring the jam band circuit with their mix of electronica, jazz, and rock, dubbed trance-fusion. You may remember them from Lollapalooza 2006 or touring with the likes of Umphrey's McGee. They're known for their long, intense sets, like all jam bands, and they never play a song in the same way twice - performing parts of their songs at different points throughout their set and even playing songs backwards. Their fans call their unique style for converting studio tracks into groovy live performance as "bisco" — a method that makes each live show by this band a unique experience. In taking such risks, their live act can be hit-or-miss, sometimes a bit self-indulgent but other times you'll leave their show with your jaw on the ground, making it a risk worth taking.
The band had taken a break in 2008 from the constant touring that is their norm to record their first studio album in seven years, release date to be determined. It's been over a year since The Disco Biscuits have played in Chicago, but you can catch them continuing to build the bridge between the jam band and dance world this Saturday at the Congress Theater. Joining The Disco Biscuits on Saturday is Philadelphia's underground hip hop DJ/producer RJD2, who is also putting the finishing touches on a new album, and IDM artist Prefuse 73, who you may remember from Wicker Park Fest this past summer.
Catch all three acts this Saturday, January 24th, at the Congress Theater, 2135 N. Milwaukee Ave. Tickets are $25 and can be purchased here. The show starts at 8 p.m. and is 18+. Stick around after the show for DJ sets by Skyler and Derek Specs in the lobby of the Congress.
Free Tickets Contest! The first two readers who email us at contests (at) gapersblock.com with the subject line "Disco" will each win themselves a pair of tickets to the show on Saturday at the Congress Theater! Update! We have our winners! Congrats to Mark and Dave.
Click below to watch TDB's music video for "World is Spinning" from the album The Wind at Four to Fly.
Copyright Trans - Transmission