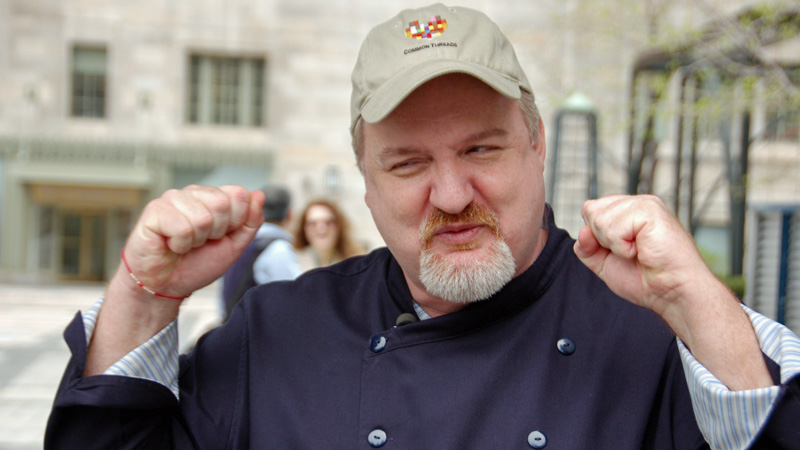 Chicago might be well-known for its pizzas, hot dogs, and Italian beefs, but that doesn't mean we don't have plenty of fine dining opportunities. We've got some of the country's best chefs... or rather, top chefs.
Three great culinary artists have been representing Chicago in Bravo's reality competition series, Top Chef Masters: Rick Bayless of Frontera Grill and Topolobampo, Graham Elliot Bowles of graham elliot, and Art Smith of Table Fifty-Two. They've been competing against 21 other nationally-acclaimed chefs, hoping to avoid elimination and to earn cash for the charity of their choice.
In the series' second episode, young Bowles was pitted against Elizabeth Falkner (from Orson in San Francisco), Suzanne Tracht (Jar, Los Angeles), and Wylie Dufresne (wd~50, New York City). He impressed the judges with his tuna salad with ginger orange bubbles—made purely from vending machine products!—and a Maki roll inspired by the television series Lost. However, despite his talents, he was eliminated, as Tracht beat the pants off him.
Fortunately, his fellow Chicago culinary cohorts fared better.
Bayless faced off against Cindy Pawlcyn (from Mustards Grill in Napa Valley), Ludo Lefebvre (Ludo Bites, Los Angeles), and Wilo Benet (Pikayo, San Juan). After making an incredible "green" dish—roasted veggies and mole verde over a banana leaf—Bayless skillfully made tasty tongue tacos and won the round.
This week, Oprah's former personal chef Art Smith had to compete against some of the nation's best: Jonathan Waxman (from Barbuto in New York City), Michael Cimarusti (Providence, Los Angeles), and Roy Yamaguchi (Roy's Restaurants, Honolulu). The judges' savored Smith's multi-grain risotto with a crispy rice salad, made from items found in only one aisle of a Whole Foods grocery store.
And never doubt the power of fried chicken! Smith served it up two different ways, alongside a bit of mango pie, and came out on top. If he used the same recipe as the fried chicken he served to several lucky locals a few months ago, then it's no surprise why he won. That lunch was delicious!
Bayless and Smith will now move on to the next round and compete against four other champions. The challenges are likely to get even tougher, but we have faith in our Chicagoans.
Matt Bartosik, editor of Off the Rocks' next issue, has a secret man-crush on Tom Colicchio.
Copyright FREEL - NBC Local Media