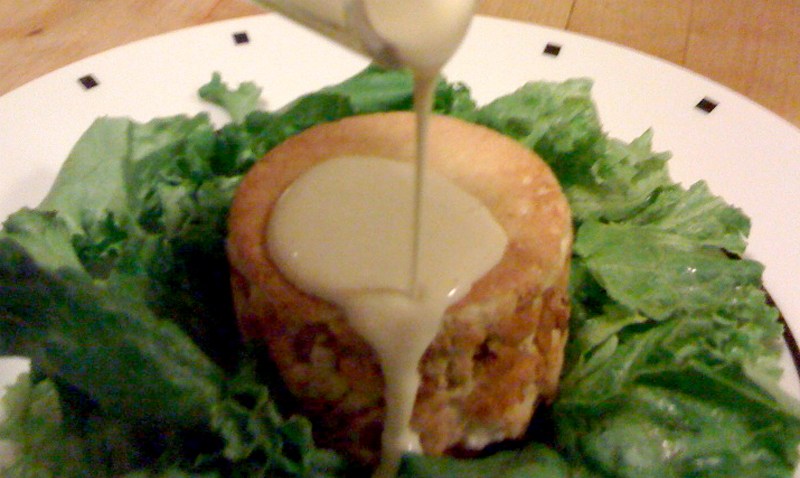 In my continuing quest to create dishes that are low in calorie but still high in flavor, I took my inspiration from a classic French dessert, the Charlotte. The traditional charlotte is usually something very sweet molded inside of either sweetened bread, sponge cake or biscuits. I modified this concept to create a savory version filled with smoked chicken, herbs and cheese and topped with a yogurt mustard sauce. The whole dish, with a salad and fruit is under 300 calories. It's perfect for a Sunday brunch or any meal.

Savory Smoked Chicken Charlotte
for four servings

Ingredients (with Calories Per Serving)

8 oz Skinless Smoked Chicken Breast (99)
8 Slices Slices Healthy Life Low Calorie Bread (70)
1/4 cu 2% Milk Shredded Cheese, Mexican Style Four Cheese Mix (20)
1 cu Egg Substitute (like Egg Beaters) (30)
1 tsp Oregano, finely minced (1)
2 tsp Onion, finely minced (1)
1/2 tsp Salt (0)
1/4 tsp Pepper (0)
1/4 cu Greek Yogurt (8)
2 tbl Chicken Stock (1)
2 tsp Dijon Mustard (1)
4 Ramekins, 6oz size
1 Biscuit Cutter 3"
Cooking Spray
Wax Paper

Optional accompaniments:
6 cu Mixed Greens (10)
2 cu Cucumbers (7)
4 cu Fresh Strawberries (49)

Method

Preheat oven to 350 degrees.

Chop the chicken into very small pieces and place in a bowl. Add cheese, 1/4 cup egg substitute, onion, salt and pepper. Mix thoroughly and set aside.

Using the biscuit cutter, cut the centers from all 8 slices of bread. Set the centers aside. Chop the remaining pieces of bread into small pieces and set aside.

Cut a 10" piece of wax paper from the roll. Cut 4 strips 2 ½" wide down the length of the wax paper (you're cutting lengthwise so that the strips curl naturally). Spray the inside of each ramekin with cooking spray. Spray the inside of each strip of wax paper and then place inside inside of the ramekin with sprayed side exposed.

Pour the remaining egg substitute into a flat bottomed bowl, like a pie pan. Lightly dip the top and bottom of 4 of the bread rounds into the mixture and place into the bottom of each ramekin (you don't want to soak up all of the egg substitute). Lightly dip the remaining rounds into the mixture and set them aside. Put the chopped bread pieces into the bowl to soak up the remaining mixture and mix together with your hands. Divide the mixture into four portions. With each portion, press the bread into the sides of the ramekin to form a crust just to the top of the ramekin. Fill each with 1/4 of the chicken mixture and then top with the remaining round.

Put ramekins on a cookie sheet and place in the oven for 20-25 minutes. Meanwhile, make the sauce by combining yogurt, chicken stock and mustard. Leave at room temperature.

Remove ramekins from the oven and let them rest for 5-10 minutes. Carefully remove charlottes from the ramekin and gently pull the wax paper off (there will be a little sticking so be careful).

To serve, invert the charlottes on a bed of greens with sliced cucumbers and drizzle sauce over the top (or place sauce in a smll container and let your guests pour it on for themselves). I also served fresh strawberries on the side.

Calories per serving: charlottes alone: 221, sauce: 10, salad with cucumbers: 17, strawberries: 49. Total per serving: 297 Calories.

If you have any questions or comments, please send me an email at wayne@waynesweekend.com or follow me on facebook or twitter.