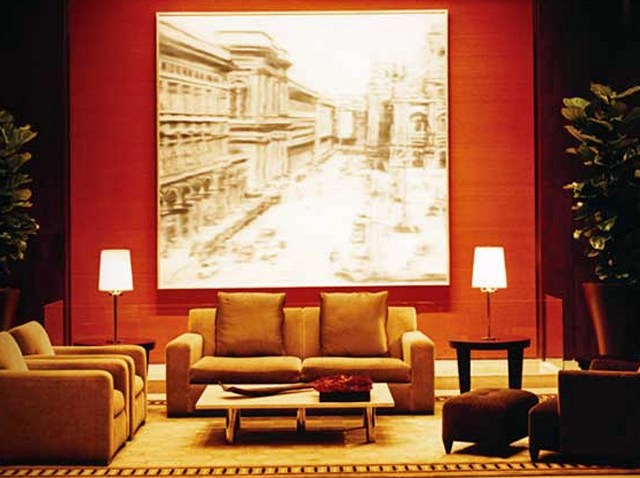 Sometimes you just want to be in the thick of it all. And at the Park Hyatt Chicago, you don't really have another choice. Just steps away from the historic Water Tower building, blocks away from Lake Michigan, and right in the heart of Chicago's downtown shopping district, the Park Hyatt majestically towers over Michigan Avenue shoppers, tourists, and businessmen. But because of the luxuriousness housed within the hotel, visitors may never want to leave the premises.

Upon entering the lobby (thanks to a doting doorman, you probably don't even need to push the revolving door), you find yourself surrounded by beauty and art. And not just any art –- we're talking museum-quality art, a la the 1968 Gerhard Richter masterpiece, Piazza del Duomo (currently valued at more than $8 million), proudly hanging dead center in the middle of the lobby. The artistic theme is fluid throughout, as the hallways are dotted with the works of local Chicago photographers. And, of course, what room would be complete without a $3000 Eames chair?

Although you may never want to leave your room due to the 300-thread count, Egyptian cotton linens, Bang & Olufsen entertainment centers, and custom Simmons mattresses with featherbed pillowtops, consider moseying into the bathroom. After all, those oversized tubs are there for a reason, and with the Bath Butler program, you can have a Zen bath waiting for you when you retire to your room -- tired and sore from carrying all of those shopping bags.

Forget room service and make your way to the hotel's seventh-floor dining mecca, NoMi. Although it's a bit on the pricey side, you'll find that Chef Christophe David's menu lives up to its reputation. There's a reason it was ranked a "Top 10 Power Dining Spot" by Forbes and one of the "World's Best Hotel Dining Rooms" by Gourmet .

If you're not up for a NoMi-sized meal, simply sip a glass of wine from the 1200+ bottle wine list in the lounge and people-watch from the floor-to-ceiling windows.

If any of this luxuriousness, pampering or Mag Mile shopping becomes too overwhelming, we give you full permission to take a break from it all and rest your eyes on one of the five goose down pillows you'll find waiting on your duvet-covered bed.

Sweet dreams.

Erica Bethe Levin wishes that she actually lived at the Park Hyatt as she writes for and edits www.cheekychicago.com.