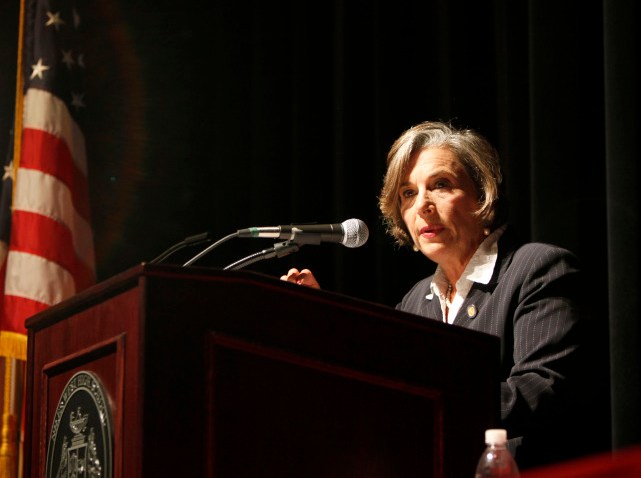 SKOKIE, Ill. — U.S. Rep. Jan Schakowsky hosted a "loud and lively" overflow crowd for a health care town hall meeting Monday evening as constituents traded jeers, cheers, boos and applause.

At times, Schakowsky yelled back at the Niles West High School crowd in her north suburban Chicago district, saying "Let me talk" or "Whoever is yelling, go to the aisle. You'll be next."

Schakowsky is chief deputy Democratic whip and a strong supporter of President Barack Obama's health care proposal. Some town halls nationally have produced arrests and bitter protests.

"It was definitely a loud and lively meeting," Schakowsky said afterward. "I really haven't had any town meetings where the passions are running so high, I think, in both directions."

The Illinois Democrat's takeaway: "Most people are hungry for health care reform and are confused about some elements of it and have a lot questions but at the end of the day want to make sure they have the health care they need."

Many in the crowd jumped up and raised their hands when Schakowsky asked for questions.

"The concern for many in this room is socialism," Richard Schulte, a 55-year-old engineering consultant from Evanston, told the crowd.

Schulte said afterward that he lost his health insurance 10 months ago because he couldn't pay the premium. He said he would like to have private insurance.

"The public option is going to eliminate private insurers, and there will be one provider: the government," Schulte said.

Elsie Enette, 52, of Chicago, works in patient financial services at an area hospital. She said she supports universal health care.

"I see a lot of things the insurance companies are doing that I don't agree with," Enette said as she was leaving the meeting. "They play games."

Hal Feldman, 78, of Des Plaines, said he came to hear Schakowsky's interpretation of the legislation.

"There's so many stories going around," Feldman said. "I like what they're talking about, but I don't like the way they're going about it."

So many people tried to attend the event that many had to wait in long lines outside the Skokie school and traffic was in gridlock.

Schakowsky said questionnaires sent out in her district "have always come back with lots of support for universal health care."

She said she foresees affordable, quality health care by the end of the year.

"We can do it without the Republican votes, as much as we may want them," Schakowsky said after the meeting. "Moving forward to get health care is the priority. It's not just to make it bipartisan."
Copyright AP - Associated Press