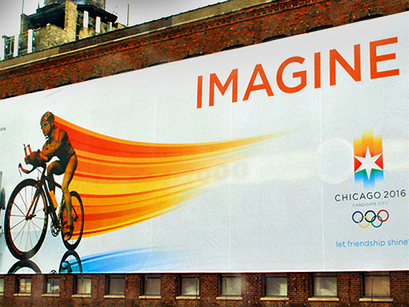 It's pretty obvious why the city's hospitality professionals are fully on board with the 2016 Olympic bid. From hotels to restaurants and nightclubs, just imagine all of those athletes, families and fans spending their time and money in the city seven years from now.
To show its collective Olympics bid support, Chicago Hospitality Backs the Bid, a grassroots group of hospitality workers, is holding a rally this afternoon from 4-5 p.m. at the Hyatt Regency Chicago (151 E. Wacker Dr.).
Led by Concierge Preferred, a visitor marketing and publishing company, the group will present the thousands of petition signatures backing the bid that they gathered through their Web site to the Chicago 2016 committee.
More than 500 attendees are expected to show up, including 17 Olympic and Paralympic athletes (such as Chicago native Connie Moore, a member of the U.S. Women's Track & Field team at the 2004 Olympics in Athens) and prominent members of Chicago's hospitality industry.
Speakers such as Mike Ditka, Billy Dec of Rockit Ranch Productions, Tim O'Malley of Concierge Preferred and Lori Healey of Chicago 2016 will address the crowd of hospitality professionals to build enthusiasm for the cause.
On Oct. 2, the 2016 Summer Olympics host city will be officially announced in Copenhagen.
Copyright FREEL - NBC Local Media