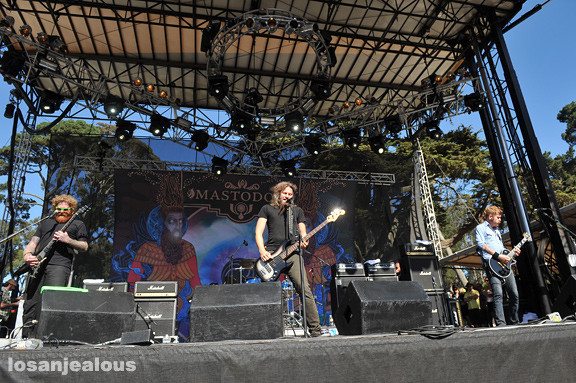 CRACK A SMYLE: The heavy-metal group Mastodon brings its face-melting riffs to the Aragon in support of its latest effort, "Crack In The Skye." The group's also working on the music score for the movie adaptation of the DC comic Jonah Hex, which is expected to be out this summer, so maybe they'll treat loyal fans to a sneak preview. 1106 W. Lawrence Ave.; Uptown. Doors open at 5:30 p.m. and show starts at 6:30 p.m. on Saturday. $31.75. They play with Dethlok and High On Fire.
LETS ROLL: The Windy City Rollers go toe to toe with Portland's Rose City Rollers tonight at the UIC Pavilion. Both teams have had a great season and lead the pack in the Women's Flat Track Derby Association's North Central Conference, with the Windy City Rollers currently ranked in first place and the Rose City Rollers in third. 525 S. Racine Ave.; University Village. Saturday. 7 p.m. $20.
LAUGHS FROM THE DOWN UNDER: Brash Australian comedian Jim Jefferies stops by the Lakeshore Theater, and lets hope he doesn't get punched in the face. If you're into swearing, jokes you can't tell in front of your parents, and charming accents, then you might want to check this out. 3175 N. Broadway St.; Lakeview. Saturday and Sunday at 7:30 p.m. and 10:30 p.m. $15.
THE DANGERS OF HITCHHIKERS: The classic cult-horror movie "The Hitcher" (not the lousy remake) screens at Facets for the theater's midnight movie series, Fright School. The film stars a very intense-looking Rutger Hauer as the unsettling "Hitcher," and it features one of the most disturbing scenes involving a semi. 1517 W. Fullerton Ave.; Lincoln Park. Saturday. 11:55 p.m. $5.
WHAT IS THIS THING YOU CALL LOVE?: The highly anticipated film adaptation of the Japanese manga hit "Astro Boy" receives a sneak peak on Sunday during the Chicago International Film Festival. This Japanese classic follows the adventures of a young robotic hero who tries desperately to fit into human society. AMC River East 21, 322 E. Illinois St.; River North. Sunday. 4 p.m. $12 to $15.