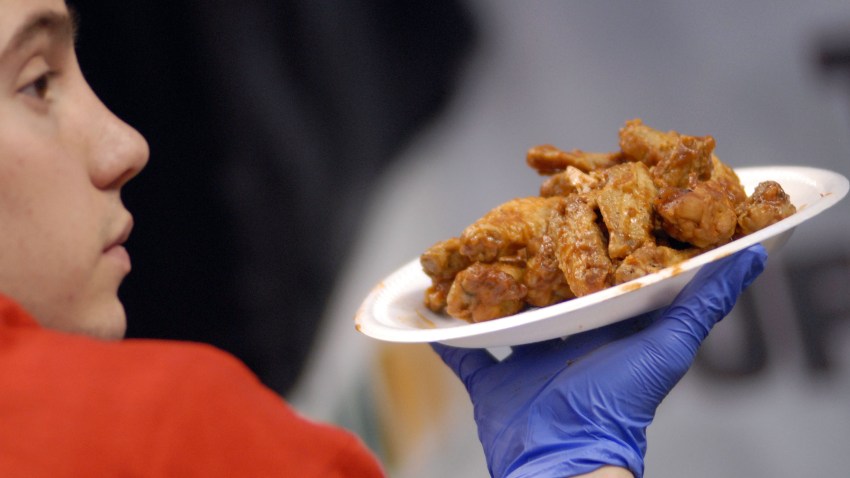 There are plenty of universal questions about poultry. Why did the chicken cross the road? Which came first: the chicken or the egg? Who makes the best chicken wings in Chicago? You might get an answer to this last question on Sunday, Feb. 22 at the 10th annual Chicago WingFest. Held at the Bailey Auditorium, 1340 W. Washington from 1 p.m. to 6 p.m., more than 2,000 wing fans will flock to join a sell-out crowd eager to munch on wings and raise money for Chicago Neighbors United, a community-based organization that provides educational scholarships to inner city youth.
WXRT's Lin Brehmer is host and celebrity judge of the festivities, assisted by his sidekick ''Chicken Man'' who revs up the crowd. Some of the wing contenders are Wing-n-it, Crossroads Tavern & Eatery, Mahoney's Pub & Grille, Cactus Bar & Grill, Goose Island Brew Pub, Timothy O'Toole's Pub, Merkle's Bar & Grill, Corcoran's Grill & Pub, Holiday Club, Wings Around the World, The Wild Goose Bar & Grill, Yard, The Fifty/50, 5 Star and more.
It costs $24 to attend; you can purchase tickets online at Tickets.com or at WingFest.net or by calling 1-800-882-4275. It's highly recommended that you purchase in advance, as the event sells out, and there is no guarantee there will be tickets at the door. The ticket price includes all the wings you can eat, live entertainment from Cadillac Dave and the Chicago Redhots, a raffle ticket and continuous sponsor giveaways. There are VIP tickets available for $50 which includes all of the above plus a drink package, parking pass, goody bag and access to the VIP area. Attendees must be 21 and over. And if you think you can really put away a LOT of wings, preregister for the ''Lord of the Wings'' eating contest. Gluttony is a beautiful thing.