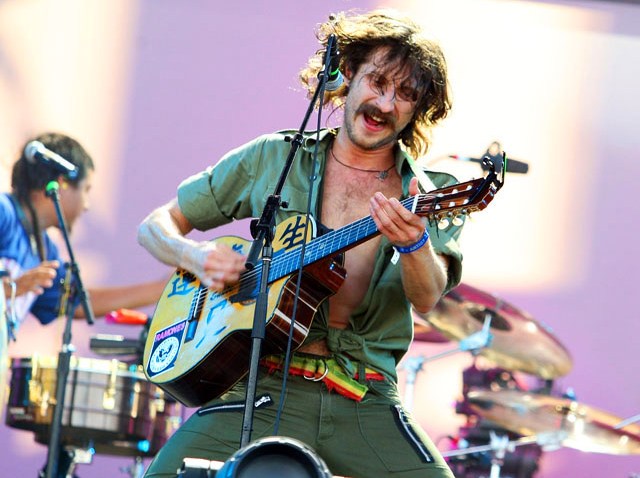 SWEET INK: Intuit's "Freaks And Flash" exhibit on the history of American tattooing enters into its final days. This outsider art museum gives special attention to some local artists and some rare pieces that originally hung up in shops back in the golden days. 756 N. Milwaukee Ave.; River West. Saturday. 11 a.m. to 5 p.m. Free.
GYPSY ROCKERS: The Gene Siskel Film Center screens the Chicago premiere of Gogol Bordello Non-Stop, a documentary about gypsy-punk rocker Eugene Hutz. Some moviegoers might recognize Hutz from his role as Alex in Everthing Is Illuminated, but Hutz made a name for himself as the mustached charmer in the uproarious Gogoal Bordello. 164 N. State St.; Loop. Saturday. 8 p.m. $10 for general admission, $7 for students, $4 for SAIC students and faculty, and $5 for film center members.
X-MAS SURPRISES: If you're still hanging onto the holidays, then check out the last showing of "Rudolph, The Red-Hosed Reindeer" at Hamburger Mary's. This retelling of a Christmas classic portrays Rudolph as a transvestite, and things get even weirder (but in a good way). 5400 W. Clark St.; Edgewater. Saturday. 7:30 p.m. $10 to $15.
NICE, UM, PROSE: Naked Girls Reading combines two great things: naked ladies and reading. The girls host a BYOB brunch and book release [NSFW] at Studio L'Amour for Jonny Porkpie's new pulp novel, "The Corpse Wore Pasties." 939 W. Randolph St.; West Loop. Reservations required. Sunday. Noon. $20.
SEVEN LETTER WORDS: If you're still recovering from New Year's Eve, then take it easy with Scrabble Sunday at Swim Cafe. Winners are treated to a drink, and there's free wifi in case you need to make a challenge. 1357 W. Chicago Ave.; Noble Square. Sunday. 1 p.m. to 6 p.m. Free.