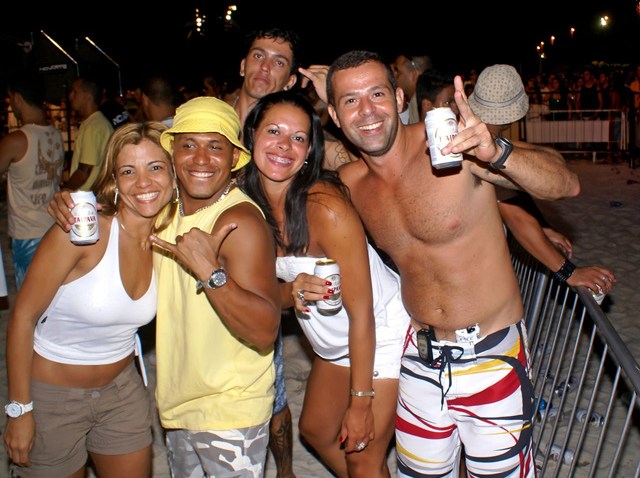 There needs to be an Olympiad of Nightlife.
Think about it: The 400-meter beer hurdles. The tri-danceathon. The high cocktail dive.
So if Chicago's nightlife scene went blotto-a-blotto against the three other bid cities, which would win?

Chicago: Windy and Wild
You already know Chicago: downtown's DJ-driven dance clubs (Underground, Enclave), sports bars and pubs (Harry Caray's, Bull & Bear), dive bars for an unassuming night on the town and lavish lounges with great views of the city, like ROOF at theWit.

Then there's live jazz and blues: Green Mill and Kingston Mines, plus regional and national acts. And don't forget stand-up.

But you know this. View more Chicago nightlife videos and pictures on the About Last Night page.

Rio: Sex, Drugs and Samba
They invented the Brazilian thong. Automatic win?

But for serious. Rio has two of the most famous beaches in the world, Copacabana and Ipanema, and that's the first place you need to go to get a taste of the party-centric mindset. Walk along Av. Atlantica, the strip along Copacabana, for some daytime entertainment with musicians and DJs performing for passers-by.


After the sun goes down, you don't need to venture beyond the beach area in order to get down. There are plenty of world-class discos, cafes and outdoor festivals to choose from.


Plus drinks are cheap! $3-$8 per bottle is the norm. Guzzle a few brews while listening to Rio Funk (local hip hop), Brazilian rock, metal and even emo music. But if you're in Rio, of course you need to check out the music they're famous for -- traditional samba and bossa nova.

Whatever you do, remember this -- Rio starts the party when a lot of places are finishing up. Bring your stamina and forget about sleep if you want to get down like a real Cariocas (local).

Tokyo: Lost in Translation
Karaoke. Lots and lots of karaoke.

Many karaoke joints will rent you a private room for a couple of hours with all-you-can drink beer or other libations for about $45. Most of the available music is in Japanese, so good luck with that. Sunny Pages has a good list of the city's karaoke spots.

As for nightclubs, there two main areas, Shibuya and Roppongi, with the latter being more popular with tourists but not considered as safe.
Clubs here lean toward the early side, often only kicking from 6 p.m. to midnight. Most people use the trains to get around, but the trains don't run between midnight and 5 a.m. -- you may be forced to party all night. So that's awesome.


So where should you start? Check out this map for a listing of the seven of the top hot spots. If you're looking for a different kind of experience, Jicoo is a floating bar that shuttles back and forth on Tokyo Bay.

Pentouse G offers an upscale environment while Cay Bar appears to be a hip spot to eat dinner and hang out in the bar afterward.

Madrid: The City That Never Sleeps
Nightlife in Madrid is similar to many other European cities, in that things don't really get poppin' until very late in the evening. In fact, it's perfectly normal to sit down to a leisurely meal at 10 p.m. before hitting the scene.

You'll need the energy, because it's customary to hit several spots in one night -- a "tasca" crawl that includes a number of taverns where you sample wine and tapas along the way.


There are three main areas to get your party on -- Chueca (Madrid's gay village, popular for trendy restaurants), Calle Huertas (traditional Spanish music, jazz clubs and bars) and Malasaña (mainly bars and clubs frequented by a young crowd).

Most Madrid clubs are open from Thursday through Saturday. They're typically open until as early as 7 a.m., and the concept of an after-hour club is much different here than most places, with the party extending well into the day. Expect to pay a cover charge of anywhere from 10-15 Euro (15-20 USD) with a free drink typically included.

If cheap entertainment is your thing, take advantage of the many free or cheap classical concerts and plays in the outdoor parks. Madrid is known for it's cultural scene, so you won't have any problems finding a myriad of theaters, concert halls and cinemas.

In many of the popular party areas, crime can be a problem, with pickpockets and muggers taking advantage of the inebriated tourists -- that would be you.