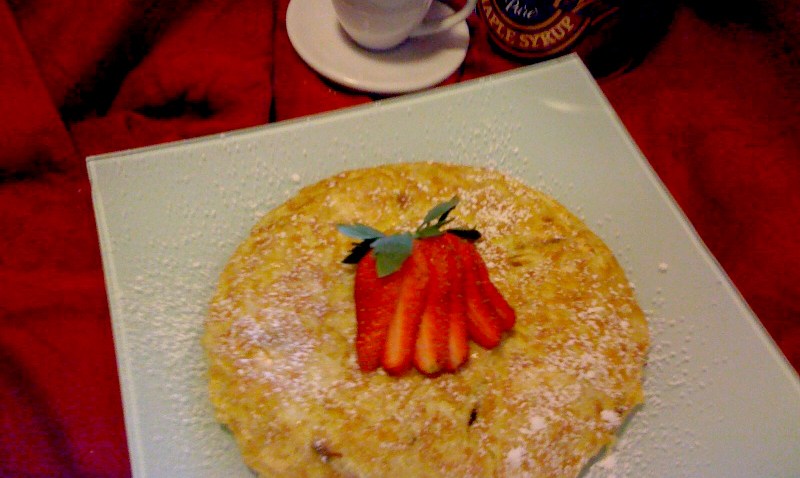 With observances for Passover and Easter happening this weekend, many of us will be entertaining family and friends not only for dinner but also in the morning with breakfast for early visitors and overnight guests. With the help and suggestions of a few friends, here's my take on a traditional Passover breakfast and a new savory scone recipe for Easter breakfast.

Matzoh Brei
for Passover Breakfast

Ingredients

2 lg Eggs
1 Egg White
1 tbl Milk
2 Sheets Matzoh
2 cu Boiling Water
1 tbl Butter

Method

Preheat oven to 350 degrees. Whisk together eggs, egg white and milk in a medium sized bowl. Set aside. Break matzoh into small pieces and place in a large shallow bowl. Pour boiling water over mazoh and let it soak for 3 minutes. Strain matzoh or squeeze out the liquid with your hand, and stir into the egg mixture. Head butter over medium heat in an ovenproof omelet pan. Add egg mixture and stir initially like you'd scramble eggs. Once mixture begins to thicken and hold together, stop stirring and let it cook for 1 minute. Place pan in preheated oven for 5 minutes. Remove pan from oven with safety mitts and invert brei onto a serving plate. Top with homemade powdered sugar (recipe below) and serve with fresh fruit and pure maple syrup.

As an alternative, savory, version, add 2 ounces of chopped salami to the egg mixture and season it with 1/2 teaspoon of salt and pepper before cooking. Serve with additional slices of salami.

Homemade Powdered Sugar

Place 1/2 cup of granulated sugar and 2 teaspoons of potato starch in a food processor or blender. Pulse just until mixture reaches consistency of powdered sugar (if you over process, you'll melt and caramelize the sugar).

Savory Breakfast Scones
for Easter Breakfast

Ingredients

4 lg Eggs
2 cu All-Purpose Flour
3 tsp Baking Powder
1/2 tsp Salt
6 tbl Cold Butter, cut into small cubes, plus 1 additional tablespoon
3/4 cu Buttermilk
4oz Cooked Chicken Sausage, chopped (about 1 cup)
1/2 cu Colby Jack Cheese, shredded
1 Egg White, beaten with 2 tablespoons of water

Method

Heat 1 tablespoon of butter in a small saucepan over medium heat. Scramble two of the eggs in the butter until fully cooked. Remove from heat and set aside.

Line a baking sheet with parchment paper or a silicone baking pad. Set aside and preheat oven to 350 degrees.

In a large bowl, combine flour, baking powder and salt. Add remaining butter and blend ingredients with your hands, breaking down the butter into small pieces until mixture resembles course meal. Add two remaining eggs to buttermilk and mix thoroughly. Add egg mixture, cheese and sausage to flour mixture. Stir to combine but don't ever mix. Dust your fingers with flour and scoop mixture onto a lightly floured surface. Shape into a 7" square. Cut square into 4 small squares by cutting it lengthwise and crosswise. Cut on both diagonals to create 8 triangles. Place triangles on baking sheet spaced evenly apart. Bake for 15-18 minutes or until golden brown. Serve warm with butter, honey (or syrup) and fresh fruit.

If you have any questions or comments, please send me an email at wayne@waynesweekend.com or follow me on facebook.