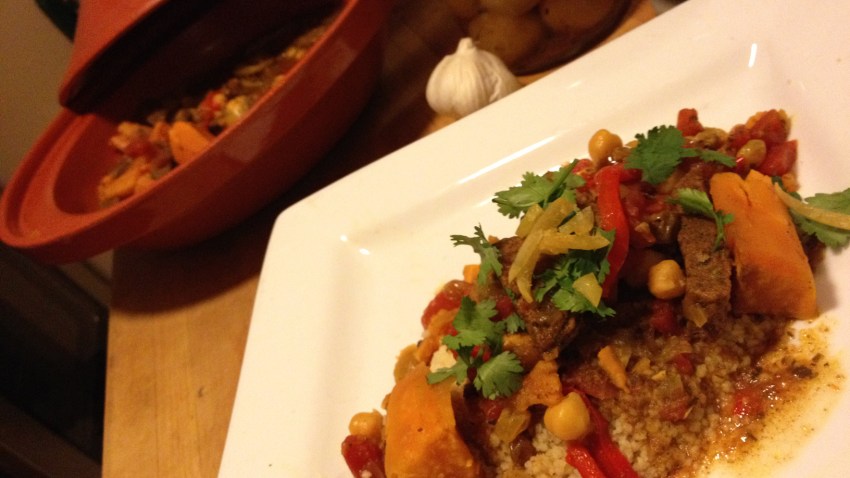 A good friend of mine went to Morocco a few years ago and brought back a recipe using a tagine, a two-part cooking vessel that has a large circular bowl shaped bottom and a conical top. The top is designed to create moisture to keep foods from drying out when being slow cooked. The original recipe that my friend Sara McGhie gave me was for chicken. You can check out that recipe here. But, I've created a new beef recipe using some of the same spices, but with a few additional touches of my own.

According to Sara, beef isn't very common in Morocco, but the spice combination will give you a pretty authentic Moroccan flavor. Plus, if you'd like to experiment, you can try this recipe with lamb or goat. A key ingredient is preserved lemon and I've provided a bit of information about where to find it following the recipe. If you don't want to invest in a Tagine, you can make this recipe with a large pot or Dutch oven. Just be sure to keep the temperature low and add additional water if the mixture dries out during the cooking process.

Beef Tagine
serves 6-8
This recipe is for a larger tagine, about 13" in diameter or larger. If you're using a smaler size, consider cutting the recipe in half.

Ingredients

3 tbl Olive Oil
2 lb Beef Round, cut into 2" chunks
4 cloves Garlic, peeled and smashed
1 cu Fresh Cilantro, loosely packed, roughly chopped
1 tsp Chili Powder
1tsp Paprika
2 tsp Cumin
2 tsp Ginger
2 tsp Tumeric
2 tsp Cinnamon
1/2 tsp Pepper
1/2 tsp Salt
1 lg Onion, thinly sliced
1 Red Pepper, seeded and thinly sliced
1Yellow Pepper, seeded and thinly sliced
2 lg Sweet Potatoes, peeled, quartered and sliced into chunks
2 cu Beef Stock
1 cu Water
1 can Chopped Tomatoes, 14oz size
1 cu Golden Raisins
1 cu Cooked Garbanzo Beans (chick peas), rinsed and drained
2 Preserved Lemons*

Cooking Equipment
1 Tagine, a two part cooking vessel, often ceramic, with a wide circular bowl shaped base for cooking a tall conical top

Method

Place garlic, 3/4 cup of the cilantro, chili powder, paprika, cumin, turmeric, cinnamon, salt and paper on a cutting board and finely chop everything together. Place the mixture in a sealable bag and add beef. Shake the bag to coat the beef with the mixture. Meanwhile, pour olive oil into the bottom of the tagine and heat over medium high heat until oil is hot. Place beef into the hot oil and sear it for about 5 minutes per side. Pour any extra spice mixture from the bag over the beef after you've turned it once.

Remove the beef from the tagine and set it aside. Add the onions, green peppers and red pepper and sauté for about minutes, stirring occasionally.

Place the beef over the onions and peppers. Arrange the sweet potatoes over the beef and top with the chopped tomatoes. Pour the beef stock over the mixture and add enough water to cover the beef (the potatoes may be partially above the water). Bring the liquid to a simmer and reduce the heat to low. Place the top on the tagine and cook for 1 hour.

Peel the lemon and separate the skin from the flesh. Discard the flesh chop half. Slice the othe half in narrow strips. After an hour, add the garbanzo beans, golden raisins, the chopped preserved lemon and half of the stops of preserved lemon. Cook for an additional 30 minutes. Add the remaining preserved lemon and 1/4 cup of Cilantro and serve over couscous.

*Preserved lemon is available online, at specialty stores like Sur la Table or ethnic markets like the Middle Eastern Bakery & Grocery at Clark and Foster in Chicago's Andersonville neighborhood.

Basic Couscous
makes about 3 1/2 cups

Ingredients

2 1/2 cu Water
1/4 tsp Salt
1 1/2 cu Couscous

Method

Bring water and salt to a boil. Remove from heat and stir in couscous. Cover and let sit for 5 minutes. Fluff up the couscous and serve.

If you have any questions or comments, please send me an email at wayne@waynesweekend.com or follow me on Twitter or Facebook.