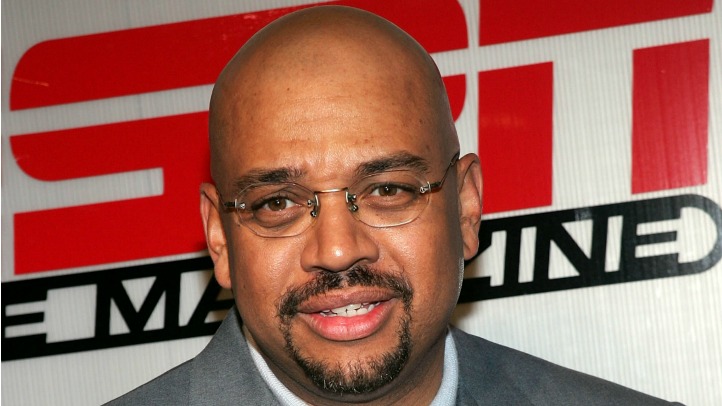 Seeing Derrick Rose go down with a torn anterior cruciate ligament in last Saturday's opening round game against the Philadelphia 76ers, you couldn't help but feel bad for him whether you were a Bulls fan or not.
But for those who either live in Chicago or come from here and live elsewhere, the disappointment was much more palpable.
ESPN columnist, co-host of the popular show PTI (Pardon The Interruption) and Chicago native Michael Wilbon, felt the angst shared by many in this city in the immediate aftermath of Rose's injury.
"I was watching it and I felt awful. Awful, like it was my kid," said Wilbon after the Bulls Game 2 loss to Philadelphia on Tuesday night.
"I felt bad. I mean, I started thinking about all the bad stuff that ever happened in Chicago sports during my life. I felt terrible. I still feel terrible. It's just a downer."
Wilbon compared the Rose injury to the one suffered by Bears quarterback Jay Cutler, who tore his MCL against the rival Green Bay Packers during the NFC Championship last season. He says people don't fully understand the effect a serious injury to a star player has on a team.
"People don't know, but it's hard in sports to lose your best player or your most important player – which is the Bears' situation because if Cutler's not their best, playing quarterback, he's their most important – you just don't keep winning. And so when you get two of these [injuries] in one year in one town, it's just bad. In the playoffs, it's about stars.
"And with Derrick, it's just worse because he's an iconic figure in this town. He's already on the list of most beloved Chicago athletes. He's up there and it's because he's from here and the way he conducts himself. He's not up there jiving and smiling and dancing and trying to be friends with every player in the league, he's not doing all of that. And older guys around the NBA, they understand it. They get who Derrick is."
Wilbon noted that, thankfully, modern medicine has progressed to the point where Rose will be able to rebound and still be able to have a long and productive career. He also took issue with those who still try and question Rose's value, especially to the Chicago Bulls.
"These clowns in my business who say that – I won't name any names – are just ridiculous."