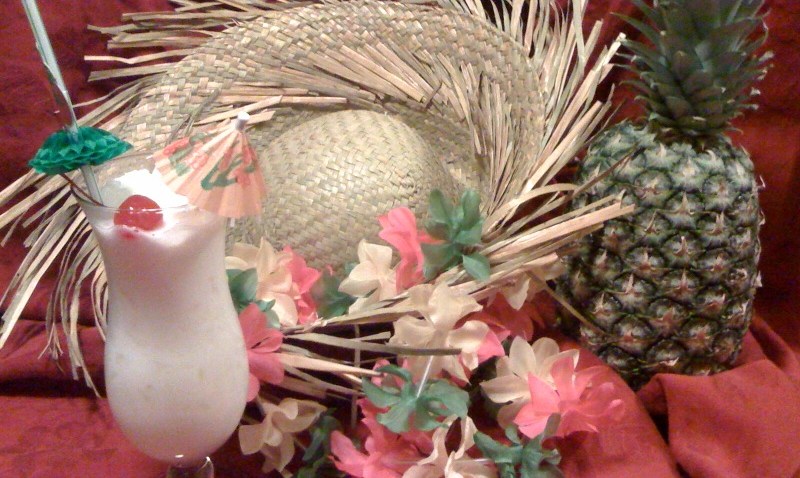 We've all reached the breaking point with this weather and are anxious for spring to get here as soon as possible.
A little Hawaiian party, complete with props, teriyaki beef skewers, chicken salad on pineapple halves, huli huli chicken wing drummettes, banana bread and piña coladas, could be just the trick to convince spring to make an early visit to Chicago.
Here are some fun recipes that will help you create the mood. Even if it doesn't work, we'll certainly have a fun time trying!

Teriyaki Beef Skewers

Ingredients

1 lb Round Steak, cut into 1" pieces
1/2 tsp Salt
1/2 tsp Pepper
1 fresh Pineapple
2 med Green Peppers, seeded and cut into 1" pieces
1" piece of Fresh Ginger, peeled and minced
1 tbl Sesame Oil
1/3 cu Light Brown Sugar
2 cloves Garlic, smashed and minced
8 -10 Wooden Skewers

Method

Core and slice the pineapple into 1" chucks, reserving the core and any juices. Set aside the same number of chunks as you have steak pieces and use the remainder for snacks or other dishes. Reserve about 1/2 cup of pineapple juice as well. If you don't have that much juice available, blend the core of the pineapple with a bit of the juice that is available to generate more.

Season beef with salt and pepper and place in a sealable plastic bag. Combine remaining ingredients and add to the bag. Seal the bag and refrigerate for 2 hours to overnight.

Soak wooden Skewers in water for 30 minutes before serving. Remove ingredients from bag and discard marinade. Thread beef, pineapple and green pepper onto wooden skewers and then grill or broil until cooked trough, about 6-8 minutes. Serve on a large platter.

Pineapple Chicken Salad

Ingredients

1 Whole Pineapple
1 pkg Pre Cooked Roasted Chicken Pieces, 9oz size
1 cu Green Seedless Grapes, split in half
1 Granny Smith Apple, cored and cut into chunks (skin on), tossed in the juice of 1/2 of a lemon
1/2 cu whole Almonds
1 Celery Stalk, split lengthwise and chopped
1 tbl Fresh Tarragon Leaves, chopped
1/2 cu Light Mayonnaise
1/2 tsp Salt
1/2 tsp Pepper

Method

Slice the pineapple lengthwise through the steam. Cut out the meat of the pineapple, reserving the liquid. Discard the core section and slice the remaining pineapple into 1" chunks. Measure 2 cups of pineapple chucks into a large bowl (reserve the rest for snacks or other dishes). Add about 1/4 cu pineapple juice. Add remaining ingredients and toss to combine. Season with additional salt and pepper if necessary. Spoon mixture into pineapple halves and serve.

Huli Huli Chicken

1 lb Chicken Wing Drummettes (this marinade and basting sauce will accommodate up to 1 1/2 lb chicken)
1/4 cu Ketchup
1/2 can Pineapple Chunks (8 oz size), including 1/2 the juice
1/4 cu Soy Sauce
1/4 cu Light Brown Sugar
1/4 cu Dry Vermouth (you can substitute dry white wine if you like)
1 clove Garlic, smashed and minced
1 Jalapeño Pepper, seeded and minced
1 tbl Worchestershire Sauce

Method

Put all ingredients except chicken in a blender and blend until smooth. Pour 1/2 of the mixture over chicken in a sealable plastic bag. Reserve the other half for basting. Refrigerate the chicken for 2 hours to overnight.

Remove chicken from plastic bag and discard marinade. Cook chicken on a grill or under a broiler, basting with the reserve liquid, for about18-20 minutes, or until cooked through. Serve on a bed of lettuce.

Banana Bread With Macadamia Nuts

Ingredients

1/2 cu Unsalted Butter, softened
3/4 cu Sugar
2 lb Ripe Bananas (about 4 large), peeled and smashed
2 lg Eggs, slightly beaten
2 tbl Heavy Cream
1 3/4 cu All Purpose Flour
1 tsp Baking Powder
1/2 tsp Baking Soda
1/2 tsp Salt
1 cu Macadamia Nuts, roughly chopped

Method

Preheat Oven to 350 degrees. Lightly grease and flour a bread pan. Set aside.

Cream together butter and sugar in a mixing bowl at medium speed. Add bananas, eggs and cream.

In a separate bowl, mix together flour, baking powder, baking soda and salt. Gradually add to liquid ingredients and mix thoroughly. Finally, add nuts and stir to combine. Pour mixture in to prepared pan and bake for 55-60 minutes until bread springs back to the touch or a wooden skewer inserted into the center comes out clean. Remove from oven and allow to cool before slicing.

If you have any questions or comments, please send an email to wayne@waynesweekend.com or follow me on facebook.