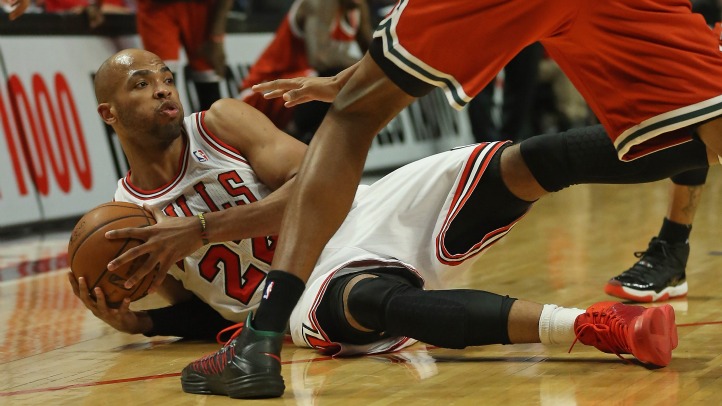 Brandon Jennings is not one of the best point guards in the NBA. At best, he's easily second or third tier at his position. But he has had some very good games on the United Center floor and his performance on Wednesday night was a prime example.
Jennings torched the Bulls for 35 points on 50 percent shooting from the field as the Bucks defeated the Bulls, 106-94. He said he was motivated by the "trash talk" that Nate Robinson was giving him on the court. A confident Brandon Jennings is a dangerous Brandon Jennings, and although the Bulls have been playing much better of late, they're not in any sort of position to trash talk anyone.
The Good
The Bulls shot the ball very well in the first half, shooting 52 percent from the field. They shot a blistering 58 percent in the first quarter and seemed well on their way to their fourth consecutive victory, which would have been the longest win streak of the season. Carlos Boozer (22 points, 11 rebounds) continued his strong play and even though he can be indirectly credited with the loss in some way, Nate Robinson (19 points, six assists, five steals) played well in the starting lineup for the injured Kirk Hinrich. Luol Deng (18 points) and Joakim Noah (eight points, 12 rebounds) also played well. The Bulls crushed the Bucks scoring in the paint (56-34) and held a 15-point lead at one point in the game.
The Bad
The Milwaukee Bucks, thanks to Larry Sanders (six points, 12 rebounds, seven blocks) leads the NBA in blocked shots. On Wednesday night, they tallied 15 blocks. The Bulls bench, after coming up big against Miami, was outscored by the Bucks bench, 35-25.
The Ugly
Brandon Jennings had 10 points in the first half. In the third quarter, he dropped 20 points by himself. The Bulls as a team scored just 23 points in the third and seemed to have no idea on how to contain the Bucks guard. The aforementioned Hinrich missed yet another game, this time with an injury to his elbow. Marco Belinelli (nine points, five turnovers) really struggled with his shooting, going 4-14 from the field. Rip Hamilton (four points) also contributed nothing, going 2-11 from the field. And after shooting the ball so well in the first half, the Bulls shot just 30 percent in the second half and were outscored 54-39 in the final 24 minutes of regulation.
Follow "Outside Shot" on Twitter (@Outside_Shot) for more Bulls news and information.