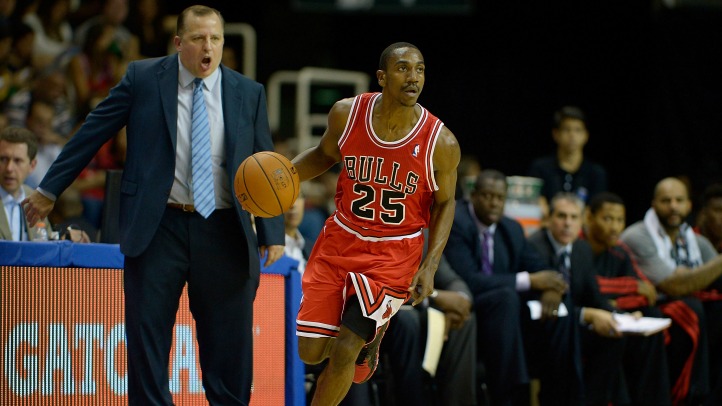 In the eyes of many fans, when a player is sent down to the D-League, it's a sign that player isn't good enough to play at the NBA level. But that isn't always the case.
Sometimes a player is sent down because of a logjam at his position and, given the competitive nature of professional athletes, not getting minutes can affect their confidence. So when Marquis Teague was sent down to the D-League for a second time on Thursday – this time with the intention to stay – Tom Thibodeau expressed that the second-year point guard was not being demoted in any way.
"It's not a demotion, it's not anything like that," the coach said on Friday after the team's practice. "It's an opportunity for him to get some playing time. When I say playing time, we're hopeful it's significant, where it's three quarters of a game, so he just can play. He's had some good moments here. We want him to continue to develop, so we think it's a good opportunity."
Teague hasn't played much this season, and has twice lost his spot in the rotation-- once to 38-year-old Mike James, and again to virtual newcomer, DJ Augustin. So far this season, Teague has appeared in 19 games – two starts – and is averaging just 2.4 points and 1.5 assists in 12.7 minutes.
The development that he'd shown during the NBA's Summer League in Las Vegas, has now turned into regression and his confidence appears to be shaken. That's why Thibodeau thinks the D-League assignment will be good for his young guard.
"He's a very confident kid, he's still learning, he's young. This is all part of it," said Thibodeau. "You have to look at it in totality, where you're saying, 'OK, he's done a good job with his individual work, he's practicing more like a pro.' It's an opportunity where, OK, he can get out and play. That never hurts, and you see it."