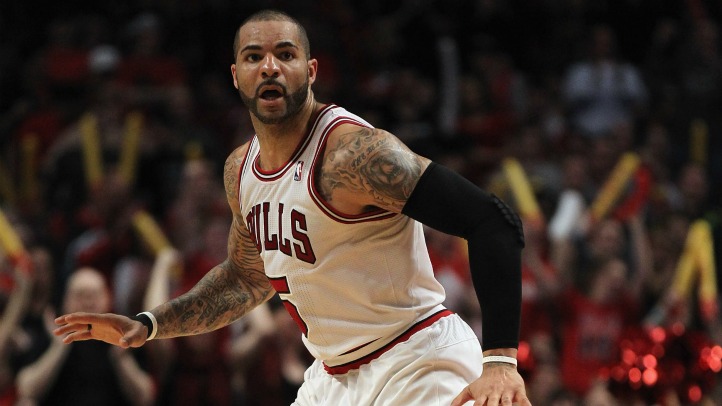 The Chicago Bulls won their third straight preseason game Tuesday, defeating the Oklahoma City Thunder, 94-89. OKC head coach Scott Brooks decided to sit his two superstars, Kevin Durant and Russell Westbrook, but the game had a regular season feel to it, including a little chippiness.
It's preseason and the victory counts toward nothing. Still, Tom Thibodeau played his starters heavy and tightened up his rotation, and the team gave fans a glimpse into what to expect when the regular season starts on Halloween night.
The Good
Carlos Boozer (24 points, 12 rebounds) had his consecutive strong game of the preseason. With Derrick Rose out, he's going to be a focal point of the offense as the team employs an inside-out strategy. Joakim Noah also played well (15 points, 10 rebounds) as did Luol Deng (21 points) and Rip Hamilton (13 points). As a team, the Bulls rebounded the ball and got out on the break, outscoring OKC in that area 16-5.
The Bad
The Bench Mob 2.0 still hasn't found a consistent rhythm as group and in Tuesday night's game – by far their worst of the preseason – the reserves shot a combined 5-20 from the field and scored just 13 points. If the Bulls are going to see any success this season, the bench is going to have to step up and carry their own weight just like in season's past. Had Durant and Westbrook played and with the bench playing the way they did on Tuesday, the Bulls would have surely lost.
The Ugly
Kirk Hinrich played just under 15 minutes in the first half and didn't see the court in the second because of a strained right groin. This injury comes after he was forced to sit out the game against the Milwaukee Bucks with an injury to his right thumb. The Bulls are already thin at the point guard spot and if Hinrich has to miss any time, that would make Nate Robinson the starter and rookie Marquis Teague his backup. And Marco Belinelli continues to struggle. He played 12 minutes against the Thunder and went scoreless after attempting just one shot. You have to imagine that any confidence Thibs had in him during the early stages of training camp is all but gone now.