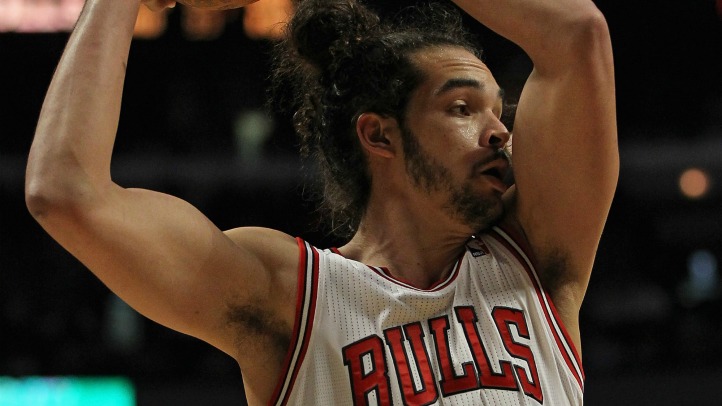 The Bulls rebounded from a two-game skid to best the rival Boston Celtics Thursday night and came away with an impressive victory at home, 93-86.
After a disappointing loss on the road against the Oklahoma City Thunder on Sunday and at home the following night against the Houston Rockets, the Celtics posed a formidable threat to hand Chicago their third consecutive loss, something this team hasn't experienced since the Vinny Del Negro era.
Chicago was determined not to let that happen and according to their emotional leader, Joakim Noah, the Bulls mindset is directly tied to wins, losses and how well they perform as a whole.
"Basketball is a game of momentum," said Noah. "When things aren't going our way, our mentality has to be, 'We're going to fix this fast.' We can't have the poopy face. Sometimes we play with the poopy face."
The Bulls found themselves down by as many as 11 points in the game, but with a season high scoring output from All-Star Luol Deng (26 points), a strong double-double from Carlos Boozer (12 points, 14 rebounds) and a solid contribution from the aforementioned Noah (17 points, 9 rebounds), there would be no "poopy faces" for anyone wearing red and white last night.
Another key contributor to the win was the play of reserve guard, CJ Watson, who has been assuming the starting point guard role in the absence of Derrick Rose. Watson's production over the last two games had been horrendous. Against OKC he scored 4 points and dished 2 assists and against Houston he scored just 2 points and had 2 assists.
That's a combined 6 points and 4 assists, not enough to win against the worst teams in the NBA let alone the team with the best record in the Western Conference and the current 8th seed, respectively.
Watson was aggressive against Boston and put an impressive line of 15 points and 8 assists, offsetting the production of Celtics All-Star, Rajon Rondo. The only negative about CJ's performance was his 6 turnovers, but in such a huge victory, you can look past that somewhat.
With this game behind them, things don't get any easier for the Bulls as they have an upcoming home-and-home series against the New York Knicks which begins on Sunday and after that, it's the Miami Heat coming to town next Thursday.
Hopefully Derrick Rose – who says he'll play against New York – will be back and Chicago will once again be at full strength.