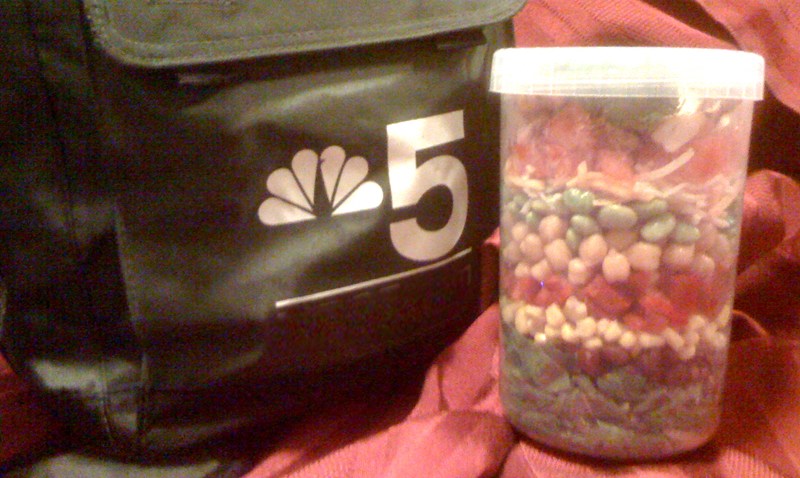 Going out for lunch at work can be expensive and often not very healthy. By bringing a homemade lunch, you can save money and create a meal full of fresh ingredients that tastes great and is good for you. Here are a few recipe ideas that can be prepared the night before and carried into the office in something as simple as an insulated lunch bag. I also have a few additional suggestions that were shared with me by two of my Facebook friends, Stephanie Ohlwein and David Turman.

Easy Dipping Sauce

Ingredients

1 tbl Honey Mustard
2 tbl Dijon Mustard
2 tbl Green Onion
1 tbl Sour Cream

Method

Mix ingredients together and store in the refrigerator. This dipping sauce is great with vegetables and grilled chicken strips. For basic chicken strips, take chicken breasts and cut them into 1" long strips. Lightly season them with salt, pepper, ground cumin and chili powder and bake them for 30 minutes at 350 degrees. Remove from oven and serve warm or at room temperature with this sauce.

Southwest Chicken Salad Stacker

Ingredients

1/4 cu Fresh Cilantro, chopped
3/4 cu Cooked Chicken
1/4 cu Jack Cheese, shredded
1/2 cu Tomatoes, chopped
1/2 cu Edamame
1/2 cu Red Pepper, chopped
1/2 cu Garbanzo
1/2 cu Corn (from a can), rinsed and drained
1/2 cu Black Beans, rinsed and drained
2 cu Salad Greens, loosely packed
Tortilla Strips, see note below

Dressing

1 1/2 tbl Red Wine Vinegar
1 1/2 tbl Honey
1 tsp Cilantro, chopped
1 tsp Ground Cumin
1/2 tsp Banana Peppers, finely minced
2 tsp Olive Oil

Method

To make tortilla strips, follow the directions from my tortilla soup recipe. I usually make a large amount of strips and then keep them in an air-tight container and use as needed.

For the chicken, use any cooked chicken you may have leftover from a previous meal. To prepare from scratch, take whole chicken breasts and cut them into 1" long strips. Lightly season them with salt, pepper, ground cumin and chili powder and bake them for 30 minutes at 350 degrees. Remove from the oven, allow to cool and cut them into bit size pieces.

To assemble, pack the salad greens into the bottom of a 1 quart tall container. Layer the black beans, corn, garbanzo beans, red pepper, edamame, tomatoes, jack cheese, chicken and cilantro on top. Mix together the dressing ingredients and place them in a small container. Place about 1/2 cup of tortilla strips in a sealable bag. When you are ready to serve, pour the salad ingredients into a large plate or bowl (disposable or recyclable). Shake the dressing vigorously and pour over the salad. Top with tortilla strips and season as needed.

Asian Beef Wrap

Ingredients

1 cu Salad Greens
1/4 cu Broccoli Florets, blanched
1 tbl cu Fresh Cilantro, chopped
1/4 cu Red Pepper, chopped
1/4 Snow Peas, trimmed and chopped
1/4 cu Carrots, shredded
1/4 lb Roast Beef, sliced into strips
1 tsp Sesame Seeds
1 lg Tortilla, flour or flavored, like spinach or roasted red pepper

Dressing

1 tsp Fresh Ginger, minced
1 tsp Hoisin Sauce
1 Low Sodium Soy Sauce
1 tsp Fresh Lime, juice
1 tsp Sesame Oil
1/2 tsp Horseradish Sauce

Method

Place the tortilla on a large work surface. Top with the salad greens followed by the remaining ingredients. Keep ever so slightly off center on the tortilla. Mix dressing ingredients together in a small container and shake vigorously. Pour dressing over filling. Starting from the side closest to the filing, wrap the tortilla around the ingredients. Don't wrap too tightly or the tortilla will break. Cut in half on a diagonal and wrap in plastic.

David Turman
Facebook Friend's Suggestions

Best kept secret - Sunday preparation. I make 4 salads for weekly lunches (one lunch I allow "free style"), then some sort of stew in the crock pot, then either chicken breasts, pork chops or some other meat. Once everything is cooked, I separate into meal portions and freeze immediately (not the salads!). Every morning, I grab a salad for lunch and when I come home, just micro whatever I like out of the freezer for dinner. When freezer gets empty, I do it again.

Samantha Ohlwein
Facebook Friend's Suggestions

My hubby is a big fan of pasta dishes and soups. I make manicotti loaded with spinach and mushrooms with part-skim ricotta and egg whites (for binding), then top it with a simple tomato sauce and low-fat mozzarella. It's all about fresh herbs for a taste-boost!

Another favorite is a semi-homemade soup. I start with a low-fat lentil soup. I chop up carrots, celery, onions (or any other produce I need to use up) and add those to the soup along with Swanson's organic veggie broth. I season with basil, oregano, garlic.... whatever sounds good at the time. They're both healthy, vegetarian options and both recipes make quite a few servings, so they last throughout the week for lunches.
National Maple Syrup Festival

I also have the pleasure of being one of the judges at the upcoming National Maple Syrup Festivel in southern Indiana. If you are looking for a flavorful little excursion this weekend or next, check it out!

WHEN

March 5-6 and March 12-13, 8:30 a.m. to 5 p.m.

WHERE

Burton's Maplewood Farm, Medora Community School and Medora Conservation Club
Medora, Ind. (20 minutes west off I-65 between Louisville and Indianapolis)
Parking is at Medora Community School, 82 S. George St., Medora, Ind.

COST

$10 for adults, $8 for seniors ages 65 and older, $6 for children ages 5 to 15, Free for ages 4 and younger (Bring a canned good for local food pantries, and get $2 off admission.)
INFO

www.nationalmaplesyrupfestival.com, 812-966-2168

If you have any questions or comments, please send me an email at wayne@waynesweekend.com or follow me on Facebook.