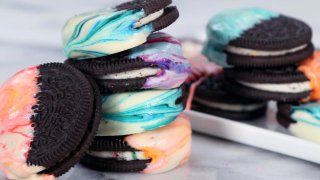 Looking for a fun recipe that both adults and kids can enjoy while stuck inside?
Lifestyle expert Brandi Milloy stopped by Chicago Today to share her easy-to-make recipe for Tie-Dye Oreos. Have fun making these eye-catching treats.
HERE'S WHAT YOU NEED:
1 lb. White Chocolate
Gel Food Coloring
Oreos (Any cookie will work!)
DIRECTIONS:
Melt white chocolate until smooth. Divide into a few small bowls.
Add a few drops of gel food coloring. Use a toothpick or knife to create a fun swirl effect while mixing the gel into the white chocolate. Don't mix the gel in too much or you'll loose the tie-dye effect.
Dip cookies into white chocolate half way to reveal marbled look.
Place on parchment lined baking sheet and set in freezer for about 15 minutes or the refrigerator for six hours.