JC Navarrete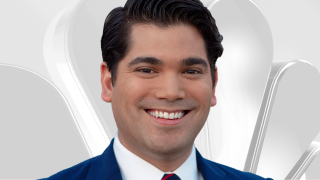 Juan Carlos Navarrete joined NBC 5 in January 2022. He is a reporter and Sunday morning anchor. While his birthname is Juan Carlos, he goes by JC, a nickname his grandfather gave him when he was just a baby. JC made his way to Chicago after spending six years in El Paso, Texas, where he worked in his hometown as a weekend anchor and reporter at KVIA.
JC is beyond ecstatic to be reporting and living in Chicago. His passion for journalism started in college when he was a staff reporter at the Prospector Daily, the student publication at The University of Texas at El Paso. JC graduated from UTEP in 2016 with a Bachelor of Arts degree in Journalism and a Minor in Film. While he was working on his degree he was already working at KVIA as a cameraman, learning the broadcast news industry as a student. JC has worn many hats in his career including producer, reporter and anchor. It's this diversity in his background that has allowed him to grow his career at NBC 5.
JC is fully bilingual in English and Spanish and is excited about the opportunities to work with his colleagues at Telemundo. He loves connecting with his Mexican roots, and looks forward to reporting in Spanish as well. In his own words "El mundo es mas pequeño cuando eres bilingue" (The world is much smaller when you are bilingual).
JC has covered all types of news events. He has worked investigative stories, crime, breaking news, elections and even was a traffic reporter when he began his career. He's grown in this field by adapting to whatever the day brings. He knows the only thing you can ever control in this business is your attitude, so he strives to come to work every day with a positive outlook on the day.
While JC is new in town, he has not wasted time embracing the Chicago culture and traditions. He's taken part in the Polar Plunge and frequents deep-dish pizza. He is open to suggestions on which place has the best deep-dish in town, so feel free to email him with recommendations.
You can reach JC with story ideas at jc.navarrete@nbcuni.com or on his social media pages. He's glad to be in Chicago and appreciates how welcoming everyone has been to him. JC looks forward to connecting with you.