Alex Maragos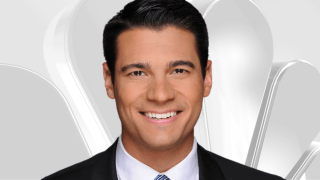 Alex Maragos is the Weekend Evening Anchor on NBC 5 and a Reporter for NBC 5 News at 10pm three days a week. Maragos moved to evenings in August 2020, after spending four years as Anchor of NBC 5 News Today and the NBC 5 News at 11am. In 2016, NBC 5 News Today won the Emmy award for Best Morning Newscast. Alex started at NBC 5 in August 2015 as a general assignment reporter.
Maragos returned home to Chicago after spending two years as a morning anchor and reporter at WLFI-TV in West Lafayette, Indiana. While there, he won awards from the Society of Professional Journalists and the Indiana Broadcasters Association for breaking news and feature reporting.
During summers home from college, Alex held internships at ESPN Radio WMVP-AM 1000, news/talk WLS-AM 890 and NBC Sports Chicago.
Alex graduated from Washington and Lee University in Lexington, Virginia, where he majored in Journalism and Mass Communications and played baseball for four years. He is also a graduate of Loyola Academy in Wilmette.
Alex lives in Chicago.
Connect with Alex on Social Media:
Facebook: @AlexMaragosNBC5
Twitter: @AlexMaragosNBC
E-mail: alex.maragos@nbcuni.com