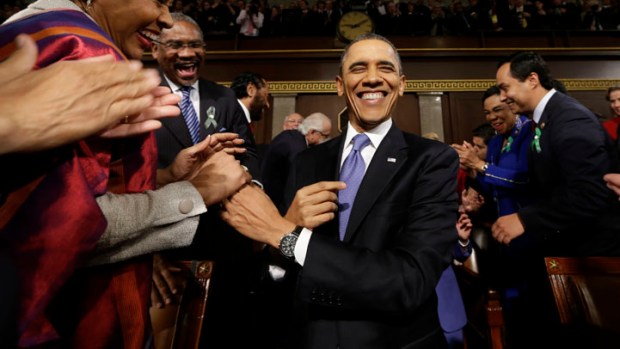 Getty Images
U.S. President Barack Obama is greeted before his State of the Union address during a joint session of Congress on Capitol Hill on February 12, 2013 in Washington, D.C. Facing a divided Congress, Obama is expected to focus his speech on new initiatives designed to stimulate the U.S. economy.
President Barack Obama is coming to Chicago on Friday.
Then he's going on vacation.
Obama plans to spend the long holiday weekend following an address at Hyde Park Academy in Florida, relaxing with friends.
The White House announced this week that Obama would head to the West Palm Beach area on Friday, following a post-State of the Union event earlier in the day in his hometown, Chicago, to talk about the economy.
White House spokesman Josh Earnest said Thursday that the president would spend his holiday on Florida's Atlantic Coast relaxing with friends. No public events were planned.
Earnest did not mention first lady Michelle Obama or daughters Malia and Sasha, suggesting they would not be with the president.
The first lady's office did not respond to a question about her weekend travel plans.
Associated Press