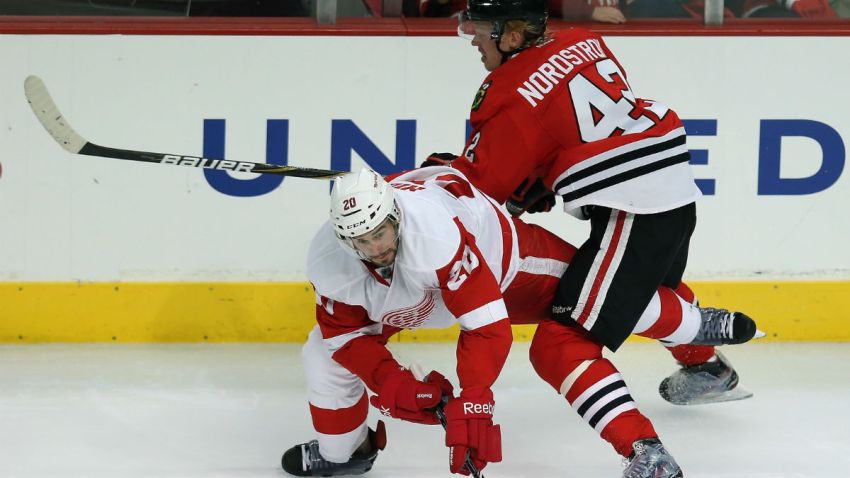 The Chicago Blackhawks sent forward Joakim Nordstrom down to the Rockford IceHogs of the AHL on Saturday night, trimming their roster to 22 players.
The move caught some by surprise because it didn't come with a corresponding roster move like the demotion of Jimmy Hayes earlier this season. With guys like Hayes and Jeremy Morin down in the AHL right now, the Hawks could have easily brought up another forward to give themselves more flexibility at that spot, but instead they are choosing to only carry 12 forwards right now.
Unless Joel Quenneville is intending to dress Mike Kostka as a forward at some point (which he did during the preseason, so it isn't completely out of the realm of possibility), then the move to send Nordstrom down has a few implications for guys on the roster bubble for the Hawks.
The most prominent among those guys is Ben Smith, who has found himself in the press box this season just as often as he has on the ice. With one goal and one assist in four games, and only averaging 9:39 of ice time per game when he's been in, Smith will definitely be looking to make an impression on the coaching staff with this new opportunity.
A good way for him to do that could come on the team's penalty killing unit. During his stint with the team, Nordstrom averaged 1:13 per game on the PK, which was fifth among the team's forwards in that department. Guys like Michal Handzus and Jonathan Toews were ahead of that total, but only because of the relative ineffectiveness of the PK unit as a whole. It goes without saying that Quenneville would like to limit the minutes of those two to keep them fresh as the schedule gets more condensed, so Smith could get a big opportunity here.
Another player who could potentially benefit from Nordstrom's demotion is Brandon Pirri, who has only been averaging less than nine minutes per game since his recent call-up. Despite his limited amount of ice time, he has scored twice and added an assist to make him the only player on the team who is averaging a point per game on the season. If he can get some extra playing time on the third line, or maybe even higher if Handzus continues to require more rest during games, then his stats could continue near that pace, and could be a big asset to the team moving forward.
Both Smith and Pirri will get their first chance at a bigger impact on Tuesday night when the Hawks take on the Florida Panthers in Sunrise.