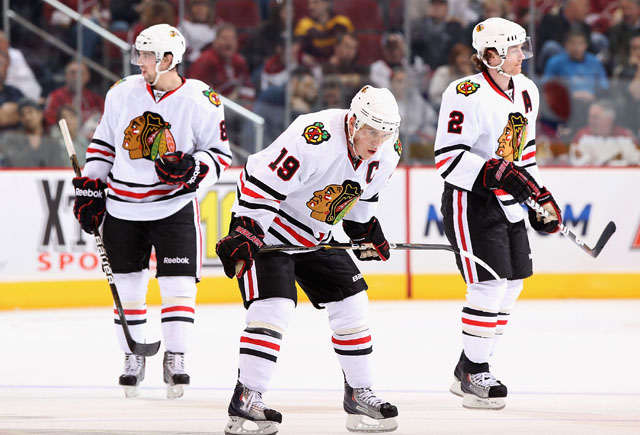 Blackhawks fans and players have admitted they've begun scoreboard watching lately, as the Hawks find themselves amongst the unwashed masses competing for the last few playoff spots.

I still think it's a bit early for that, as to me it depends on what the Hawks do still. Yes, the numbers are ugly, as the Hawks still sit 11th and four points out of the final spot. But if and when the Hawks rip off a streak, say seven of eight or 10 of 12 as they've needed to do all season but have failed to produce, things will look a lot rosier. They have to.
But taking a glance around, the Hawks haven't been helped by their own incompetence and other teams finding the magic elixir of dominance. Most, if not all, of the teams with whom the Hawks are forming the chasing pack are in the middle of a ridiculous streak of hockey.

The Kings have collected points in 11 straight games, winning eight. The Minnesota Wild have won six of eight. The Flames have won 10 of 13, and the three they lost are games in which they gained a point. The Ducks have won six of eight, gaining a point in one of those losses. The Sharks are also unconscious. It would seem impossible that all these teams in the same conference can be this hot, but here we are.
Of these teams, only the Kings and Sharks could be considered to have been underachieving before they hit this patch, and their fanbases -- much like ours -- were waiting for a prolonged streak of quailty.

L.A.'s and San Jose's recent surge could be considered "market correction," But the Flames, Ducks, and Wild? This has to be considered just a spike. Anaheim and Minny are both in the bottom 10 of even strength goals-against, a decent if not great indicator of the quality of your team.

Anaheim and Minnesota also average getting outshot badly per night, which simply isn't a recipe for success, unless your goalie is going to bail you out every night. With Jonas Hiller, Anaheim's superb starting goalie, looking like he's going to miss significant time, the Ducks are headed for a fall.
Even not breaking down the stats, none of these teams are going to win eight of 10 the rest of the way out. It's just too hard of a pace to keep up.

If the Hawks can put together their streak when these teams go cold -- and they will -- they'll zoom up the standings. If those teams do somehow keep up that pace, well, then they'll have earned their playoff berth. But I wouldn't count on it.