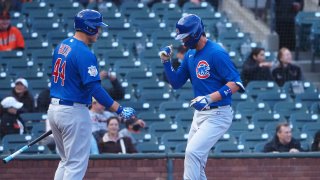 Bryant won't 'waste energy' on trade deadline concerns originally appeared on NBC Sports Chicago
SAN DIEGO — Kris Bryant sat on the low wall near the dugout-area seats along the third-base line at Petco Park on Monday and actually laughed when he thought about the likelihood that this could be his last few months as a Cub and what free agency might look like next fall — alongside Bryzzo bro Anthony Rizzo.
Could this by why he and so many teammates seem to be "having more fun" this year?
"Because it might be the end," he said, "might be the last time I play with Anthony Rizzo, who knows. Maybe we're a package deal."
Bryant, 29, said he's too young to be stealing the idea from Sandy Koufax and Don Drysdale, who held out together to squeeze raises out of the Dodgers in the spring of 1966.
But he and Rizzo as package-deal free agents?
"We've talked about that, just joking in the cage," said Bryant, whose playing so far this year like an early favorite to win a second MVP award.
"Me being his hitting coach, he says, 'I can't go anywhere without you.' Just the good friendship that we have."
Doesn't mean it can't work if the Cubs actually let them walk this year.
Bryzzo for hire.
"We got our pitch," Bryant said with a laugh. "It's like Step Brothers: We've got to go in and get the job."
Bryant wouldn't say which is Will Ferrell and which is John C. Reilly in his vision for the off-season business venture. Or whether bunk beds are among the contract demands.
But from where he sat, he could see three members of the sports agency that represents him waiting for him to finish from the seats on the other side of the Cubs' dugout.
And the imminence of the next direction in his career was as real as the laugh and the ease of mind, and the damp ocean cloud layer in San Diego, and the fourth loss in five games to start this road trip the Cubs were dealt a few hours later.
Wherever that direction leads, the imminence could be a matter of weeks, depending how the rest of a tough-looking month plays — or a matter of months if they finish June the way they looked in May and force ownership and the front office into buying at the trade deadline.
"I don't put much thought into it," Bryant said. "It's wasted energy."
He's certainly learned that much over the past two or three years of trade rumors, expectations, front-office prodding, payroll issues and speculation surrounding his and teammates' futures with the club.
"Whatever happens is going to happen," said Bryant, who entered the week ranked third in the majors in offensive WAR and who has started five different positions this year.
"But it's cool to hear when I'm running into the outfield in Wrigley all the fans saying they want me. That definitely feels much better."
That's the thing about this Bryzzo package-deal plan.
It's the same package deal the Cubs have had for the last six-plus seasons as they work on a seventh consecutive winning season with that pair — and Javy Báez and Kyle Hendricks — that would be the first such stretch in more than 80 years for the franchise.
Bryzzo and Báez all are free agents at the end of the season unless the big-revenue, $3.4-billion Cubs rally to get extensions done with them after years of failed talks and (in the case of Rizzo this spring) lowball offers.
Whether the Cubs can actually get that done, "If they want to, absolutely they can," Rizzo told Paul Sullivan of the Chicago Tribune over the weekend.
In other words, that package deal is available for the Ricketts ownership and Cubs front office anytime they decide that's the direction they want to go.
"I don't know their financial situation, I really don't," Bryant said, eliciting several seconds of laughter from the five guys talking to him.
"But the Chicago Cubs are doing well," he said. "So theoretically you could sign whoever you want. It's just a matter of if they want to continue with us or if they want to go a different way. But they've got some money."
The Cubs get a reminder Wednesday when Yu Darvish faces them in a Padres uniform of why the Cubs have more money in their pockets these days than on the payroll — if not a clue into the near-term priorities of some of the wealthiest owners in the sport.
For now Bryant is just trying to wrap his mind around being a regular outfielder this year who could make the All-Star team as a third baseman.
"That would be really weird," he said.
And enjoying a loose, prove-'em-wrong clubhouse environment with a new cast of supporting characters that he calls "night and day from a lot of teams we've had here."
And trying not to think about how long it will last.
"I think that's why a lot of guys are really embracing it and enjoying it," he said, "because it could be the last go-round. But a lot of us certainly hope it's not."
Copyright RSN