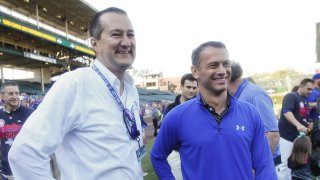 Cubs eye vaccine news, critical attendance revenue in planning originally appeared on NBC Sports Chicago
The new boss running the Cubs won't get any help this winter from those big tax credits the organization gets from Wrigley Field's recent designation as a national historic landmark.
But could newly promoted team president Jed Hoyer's efforts to retool the roster during a volatile winter get a shot in the arm from any of the newly developed COVID-19 vaccines making news over the past week?
With some of the highest average ticket prices in the game and typical annual attendance that tops 3 million, the Cubs lean heavily on attendance for revenues compared to many teams.
"I honestly believe that with the combination of vaccines and treatments and home testing and a few other ways people can be safer, and spreading people out around the ballpark, I think we'll be able to get people back in the park," Cubs chairman Tom Ricketts said Tuesday as the club introduced Hoyer as Theo Epstein's replacement at a time of massive economic uncertainty in the industry — and, in particular, with the Cubs.
"But only time will tell if we'll get enough people in the park to — if we'll get 10 percent or 20 percent or 30 percent, only time will tell," Ricketts added.
Amid steep revenue losses in 2020 related to the pandemic and uncertainty over 2021, the Cubs already laid off more than 100 employees throughout the organization and face a winter of cuts likely to be at least as deep for a payroll that has been among the highest in the game in recent years.
That significant transition this winter, which is expected to include multiple core players being traded or non-tendered, is part of the reason Epstein gave for stepping down with a year remaining on his contract and allowing someone who planned to remain with the team longer term to make the changes.
Another part of that, Epstein acknowledged, was allowing his $10 million salary for 2021 to be rededicated in other ways to the organization — some of which was used in covering Hoyer's promotion as part of a five-year extension through 2026 and, presumably will be used to backfill Hoyer's old role (though Hoyer said he does not plan to rush in making that outside hire).
The bottom line for this winter is that while Hoyer says he'll keep one eye on the present and one eye on the future, all eyes will be on the money that Hoyer sheds from the payroll and that ownership can project coming into the organization next year.
Hoyer said that "we have a range that we've discussed" for a payroll budget but that those discussions are expected to continue as more information becomes available this year.
And Ricketts called that situation "very, very fluid" as news of vaccines and distribution projections continue to evolve.
What's not fluid is what won't be going into the baseball coffers from the newly minted landmark status, which comes with a 20 percent income tax credit for the rehabilitation of historic, income-producing buildings that are given that designation by the U.S. Department of the Interior — a benefit worth tens of millions of dollars.
"Unfortunately, no, the historic [landmark] tax credits will not have an impact in any way on our baseball budget," Ricketts said. "It was all part of the stadium redesign financing plan that has played out for the last seven years, and it doesn't have any current impact for us.
"I wish I could get tax credits and give them to baseball players, but I can't."
That makes the possibility of fans in the stands the next best hope for the kind of economic difference maker that could put the Cubs back in play for a competitive summer in 2021 — however, again, that might be a "time will tell" proposition for revenue projections and, in turn, payroll budgets.
"We just don't know what the situation's going to be," Ricketts said. "Are we going to be able to have fans? Are we going to be able to start [the season] on time?
"We'll just take the information as we get it and make the best assessment as we go, and try to put as much as we can into winning on the field."
Copyright RSN