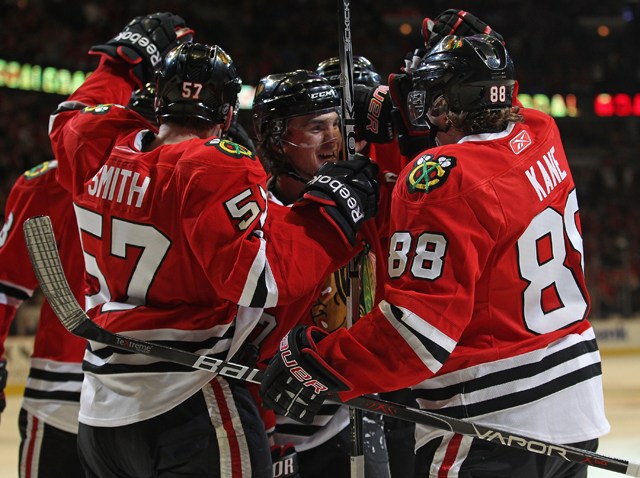 Before the season started, I didn't know who Ben Smith was. I'll be honest, I can't keep up on every Hawks prospect. The thing was that Smith wasn't really considered a prospect. A 6th round pick who went to BC, whatever right? Oh sure, MVP of the Frozen Four last year when Boston College won the championship, but that guy never goes on to anything. Adam Burish was captain of a national title winner. And he's nothing more than a fourth liner.
Unfortunately, it seems that Stan Bowman thought the same thing. Which is why we spent the last two weeks of the season asking just where exactly had Ben Smith been when the Hawks were crying out for forward depth.
Positives: Quite a few. In just a brief stint, Smith showed energy, decent wheels, and hockey IQ that a college captain should have. Smith got a call-up at the end of October, playing two games. He looked perfectly in place in those games on the 4th line, leading some to wonder why he wasn't given more of a look when the Hawks opted to dress 10 forwards some nights. When he returned, he showed the same mettle with even more physicality. He wasn't afraid of anyone, and was one of the few Hawks who could actually get to the opponent's crease without stopping at a gas station for a Twinkie and directions. His goal against Detroit, and the three he managed against Vancouver all came from that area. He even earned himself top 6 forward minutes. All for a guy who had six regular season games to his name. But that will happen when you consistently put yourself in the right place, as Smith did.
Negatives: Like with so many of these reviews, sometimes it has more to do with those calling the shots on these guys than the guys themselves. It's hard to find fault with any part of Smith's game, so the negatives have to be the questions as to why he wasn't brought up earlier. Smith managed 20 goals at Rockford, so he clearly would have been showing signs of usefulness long before April came up on the calendar. If there's one thing about Smith that worries me is his size. At only 5-11 and 205 pounds, Smith may struggle to stay intact playing the all-out game that he favors and the Hawks will require from him. But other guys his size do it, so it's not anywhere near impossible.
Contract Status: Signed for one more year at $605K
Keep Him or Ship Him: Good God keep him, but be careful how much you ask of him. Smith should not be asked to man anything more than a fourth line role to start next season. We all fell in love witih him, but we all really liked Jake Dowell in November too, and we've already FedEx-ed his bags. Unless Smith either completely wows people or completely snuffs it in camp, keeping him in a minimized role works best for everyone. He may earn more minutes and bigger responsibility, and no one would complain if he does. But make him do so, as six regular season games and seven playoff ones aren't enough to be crowning any future starts. And if Smith is on your fourth line and you correctly upgrade the other wing spots, well, that's just dandy.