Once again, time to have some fun with numbers you aren't seeing in the mainstream media. We'll break down the obscure stats that matter more than you think.
On to the numbers.
15:32: The amount of combined ice time Nick Leddy saw against the Ducks and Red Wings. This has been one of the sillier notes that the Blackhawks propaganda machine insists on playing: that Nick Leddy has had an impressive rookie season. If he were making any difference at all, then Coach Quenneville wouldn't be hiding him under the bench in critical games, especially with Brian Campbell ailing. If they trusted him even the slightest, they wouldn't be hustling Campbell back out onto the ice with one foot. In fact, in this instance Leddy has proven no more useful than John Scott was, and certainly none more than the strangely demoted Jassen Cullimore, who had a fine start to the year, could take 10-15 minutes of ice and kill penalties, nothing Leddy can do. Leddy hasn't even proven that he belongs in the NHL next year instead of racking up big minutes in Rockford where he might learn the pro game better. There are a section of Hawks fans, the section that clearly doesn't get much oxygen, who want Leddy to replace Campbell next year. He hasn't proven he can even replace a #6 d-man, much less a #3.
16:45: That's the amount of ice time that Ducks rookie defenseman Cam Fowler got against the Hawks, just so everyone knows what trusting a rookie really looks like.
14: The amount of shots Michael Frolik has attempted in the past three games. How many of them were good shots? Probably no more than two. Fro seems to be only able to shoot the puck, and hasn't attempted to make a play or hold onto the puck longer for something else to open up. He's clearly pressing to impress a new team that badly needs a contribution in this heated time. But he's doing nobody any favors with weak backhands from bad angles that have about as much chance of beating the goalie as a comatose sloth would. Pick your head up, Fro.
4: The amount of shots Troy Brouwer had against Detroit, and it's also the amount he had in the three previous games combined. Clearly playing with the kids makes a difference, as it would for anybody. Sadly, with Q's constant need to change, he probably won't stay there long.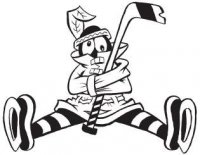 Sam Fels is the proprietor of The Committed Indian, an unofficial program for the Blackhawks. You may have seen him hocking the magazine outside the United Center at Gate 3. The program is also available for purchase online. Fels is a lifelong 'Hawks fan and he also writes for Second City Hockey .