Well, they lost them all, so it's not going to be the most uplifting section this week.
Mark It 8, Dude
Viktor Stalberg - Ok, being a bit selfish on this one, as he only had a goal against Vancouver. But he was far and away the best player on the ice that game, as he was against Calgary. I can't fathom why a large swath of Hawks fans still have the knives out for this guy. Perhaps they're too fixated on all the things he won't be or isn't instead of what he is, and that's been the biggest surprise on the team this year while having a better regular season in an Indian Head than former heroes Kris Versteeg or Dustin Byfuglien ever did.
Steve Montador - More out of statistical curiosity than anything, but Monty walked out of Alberta a +1. And for the last part of the year, Montador has been very solid, now getting a promotion to play with Nick Leddy on the second pairing. Hopefully, that helps shore things up.
Over The Line, Mark It Zero
Corey Crawford - You could put just about everyone else here, but let's get to the root of the problem. The Hawks defensive and penalty killing woes stem from terrible goaltending. They can talk about structure and positioning all they want, but even when that's right, Corey Crawford becoming a wind turbine is still going to torpedo that. He was simply awful against Edmonton, in a game the Hawks controlled. The first two goals that tied the game were simply awful, and from there his confidence went to pieces and it took the team's with it. The third power play goal was a result of Hjalmarsson trying to play goal himself, probably not trusting the actual goalie to do so. You know where it went from there.
And now Crawford, after getting the contract and the undisputed #1 job, has played himself out of the latter, and may have to find a new employer to pay the former. The only way he's going to get the role back is if Ray Emery gives it back to him. He's probably not going to get a chance to win it. and the Hawks will have serious questions to answer in goal for the fourth year in a row. It's getting maddening.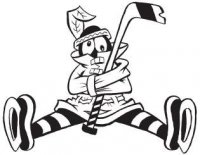 Sam Fels is the proprietor of The Committed Indian, an unofficial program for the Blackhawks. You may have seen him hocking the magazine outside the United Center at Gate 3. The program is also available for purchase online. Fels is a lifelong 'Hawks fan and he also writes for Second City Hockey .