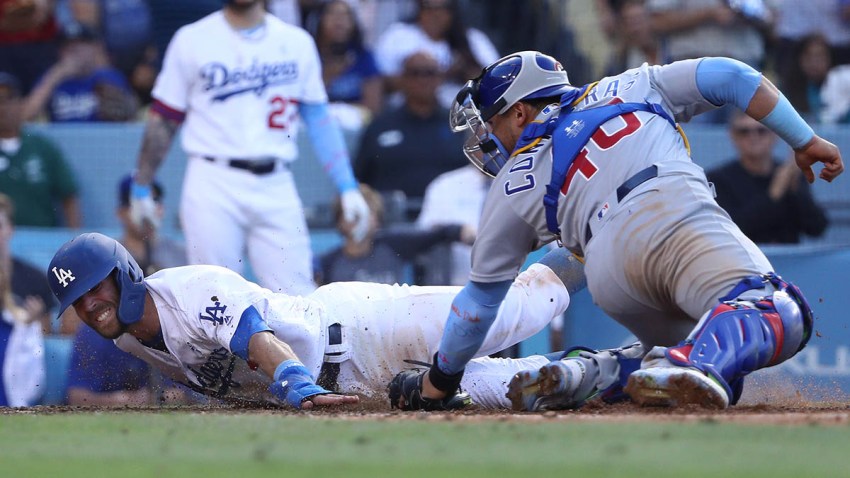 A rough road trip for the Chicago Cubs wrapped up with a loss on Sunday night as they fell to the Los Angeles Dodgers 3-2.
Russell Martin hit an RBI single in the eighth inning off of Cubs reliever Steve Cishek, scoring Chris Taylor and leading the Dodgers to their third win in four nights over the North Siders. Cody Bellinger blasted his 23rd home run of the season, and Max Muncy drove in his 44th RBI of the year in the victory.
The Cubs' offense was once again held in check by the Dodgers, scoring two runs in the sixth inning in another quiet night at the ballpark. Willson Contreras and David Bote registered RBI in the frame, but it wasn't enough as the Cubs finished off a 2-5 road trip.
José Quintana gave up two runs in five innings of work, but was stuck with the no-decision. Cishek took the loss, and Ross Stripling was the winning pitcher for the Dodgers.
The Dodgers had two quick outs in the bottom of the first inning, but then Quintana completely lost his command, as Muncy walked in a run to get the Dodgers out to a 1-0 lead.
Fortunately for the Cubs and Quintana, the lefty quickly righted the ship, and the Cubs were eventually able to take the lead in the sixth inning. With two runners on, Contreras hit a cue shot to right field, scoring an aggressive Javier Báez to knot things up at 1-1. With Kris Bryant on third base, Bote lifted a sacrifice fly to deep right field, scoring the run and giving the Cubs a 2-1 advantage.
That lead didn't last for long, as the Dodgers tied it up with one swing of the bat. Bellinger continued his strong season with a deep home run to center field, knotting the game up at 2-2 and ending Quintana's night.
That score stayed in place until the eighth, when Martin hit a single to left field, scoring Taylor and pushing the Dodgers in front, where they would remain for the rest of the game.
The Cubs will get a much-needed day off on Monday after playing on 17 straight days, then will face a tough test on Tuesday as they welcome the Chicago White Sox to Wrigley Field for a two-game set.