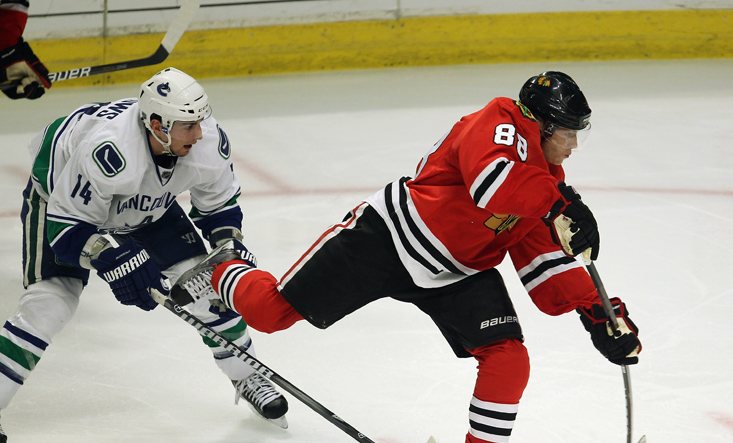 Well, for once, I don't have to write about who might not be in the lineup and who missed the morning skate and who's a gametime decision and who had what fall off of them and blah blah blah.
The Hawks have a clean bill of health today, and you'll probably see the same exact lineup that curbed the Phoenix Coyotes on Tuesday. Why would you change anything?
The only one I could see is that with the speed of the Avalanche, Joel Quenneville might opt for the more mobile Sami Lepisto instead of the lethargic Sean O'Donnell. But it's unlikely that Q is going to opt to change anything on a defense that's been working well.
On the surface, the go-go style the Avalanche employ would play right into the Hawks hands. You would think a track meet is exactly what the bevy of Hawks forwards are looking for, with a bunch of open ice to make plays and wreak havoc.
But it only did once out of the four meetings last year. That's because the Hawks defense, when it's just slightly off its game, doesn't like to be hassled while they're with the puck. The Avalanche drove the Hawks blue line nuts last year (before the wheels fell off their season) as they harrassed the Hawks defense into turnover after bad pass after dumb decision and then made them pay. With Duncan Keith and Nick Leddy especially skittish while handling the biscuit, things could get urpy in a hurry. Still, Seabrook and Hjalmarsson have been more sure-handed than last year, may that continue.
Because if the Hawks break out of their end cleanly, there's plenty to be found in the other areas. The Avs send two guys after the puck, and if you get past them, there's space and shaky defenders waiting. It's about how cleanly the Hawks break out tonight. Aimless firings into the neutral zone will do no good. Crisp passes past Avalanche forwards will lead to a bevy of odd-man rushes, which could lead to a football score. Watch the passes out of the zone. They'll tell you the whole story.