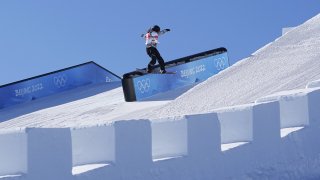 Team USA has scored its first medals of the 2022 Winter Olympics, but fell just short of notching their first gold medal of the competition.
Figure skating took center ice on Sunday in Beijing, with the United States looking to hold onto its lead in the team competition.
Here are the latest updates from the Winter Games Saturday night and Sunday morning.
Germany's Johannes Ludwig Wins Gold in Men's Luge Final
Another country has earned its first gold medal of the 2022 Winter Olympics: Germany.
Johannes Ludwig won gold in the men's luge singles with a 57.191-second time in the final run. He narrowly edged Austria's Wolfgang Kindl, who set a 57.238-second pace just before Ludwig's final run. Dominik Fischnaller of Italy claimed the silver with a 57.420-second run.
Three Americans qualified for the fourth and final run -- Chris Mazdzer, Tucker West and Jonathan Gustafson. Mazdzer was the best of the bunch, finishing eighth after winning silver in singles at the 2018 Olympics. West and Gustafson placed 13th and 19th, respectively.
Jaelin Kauf Wins Silver Medal in Women's Moguls Final
Jaelin Kauf has captured a silver medal for Team USA.
The freestyle skier finished second in the women's moguls final Sunday morning at the 2022 Winter Olympics, giving Team USA its second silver medal in Beijing.
Australia's Jakara Anthony won gold in the competition with a total score of 83.09. ROC's Anastasiia Smirnova finished third and took home bronze.
Kauf's American teammate Olivia Giaccio also finished in the top six of the moguls final.
Team USA freestyle skiers Hannah Soar and Kai Owens qualified for the final 12 spots in women's moguls finals before being eliminated.
What to Watch For Next in the Olympic Games
Local Ski Jumpers Fail to Reach Final in Normal Hill as Ryoyu Kobayashi Makes History for Japan
Casey Larson finished with a score of 113.2 points, but failed to reach the qualifying standard for the final as he finished in 39th place.
Kevin Bickner finished in 43rd with a score of 108.1 points, and Decker Dean finished just behind him with 106.6. Patrick Gasienica scored an 89.8 in the first round.
In the final, Japan's Ryoyu Kobayashi captured the country's first ski jumping gold medal since 1972 with an outstanding final tally of 275 points.
Austria's Manuel Fettner won the silver in the event, and Poland's Dawid Kubacki edged out Slovenia's Peter Prevc by half a point for the bronze.
Weather Causes Men's Downhill Event Delay
Olympic organizers announced the postponement of men's downhill skiing due to high winds.
Originally scheduled for 10 p.m. EST on Saturday night, the event will now be held on Monday.
Only a select group of athletes has been able to practice on the course, with high winds derailing several practice sessions and the start of the competition.
Julia Marino's Slopestyle Silver Gives U.S. First Medal, as Jamie Anderson Finishes Ninth
Team USA's Julia Marino claimed silver in the women's slopestyle with a final score of 87.68 and collected America's first medal of the Olympics.
While all eyes were on fellow American Jamie Anderson, she would not be able to complete the illustrious three-peat. Anderson finished ninth with a final run of 60.78.
New Zealand's Zoi Sadowski-Synnott won gold in dominating fashion with a final score of 92.88. While Marino held on to the first place spot through her third run, Sadowski-Synnott saved her best for last and delivered a huge 1080 to finish a stunning final run and claim the lead.
The 20-year-old Sadowski-Synnott also made history by winning the first-ever gold medal for New Zealand at the Winter Olympics.
Anderson, who has won each of the two golds awarded in the event since it debuted at the 2014 Sochi Games, placed fifth in the slopestyle qualification and was one of three Americans who advanced to the final. Team USA members Julia Marino and Hailey Langland also qualified.
Team USA Drops to Second Place in Team Figure Skating Events
The United States came into Sunday's team figure skating session hoping to solidify its chances at a gold medal, but instead they found themselves three points behind the Russian Olympic Committee Squad after Karen Chen finished fifth in the women's free skate and Vincent Zhou finished in third in the men's free skate.
The American team, which had gained an early lead thanks to Nathan Chen and ice dancers Madison Hubbell and Zachary Donohue, is three points behind the Russian squad heading into the final day of the team competition, where pairs skating, ice dance and women's single skating will take place beginning at 7:15 p.m. Central time Sunday.
Team USA Continues Mixed Doubles Curling Competition
Team USA will take on the Czech Republic for mixed doubles in curling on Saturday night at 7:05 p.m. CT.
A second game will take place between USA and Switzerland at 6:05 a.m. CT.
Team USA Without Medal After Day 1 of Olympic Competition in Beijing
The first American medal at the 2022 Winter Olympics will have to wait to be celebrated after Team USA went medal-less on Day 1 of competition in Beijing.
The United States had a few podium opportunities Saturday morning. Freestyle skier Nick Page finished fifth in the men's mogul final and cross country skier Jessie Diggins finished sixth in the women's 7.5km skiathlon.
Read more here.
Shaun White Says 2022 Olympics Will Be His Final Competition
American snowboarder Shaun White, who became the face of the sport by winning three gold medals, said on Saturday the 2022 Winter Olympics would be his last snowboarding competition and that he would retire from all contests.
"I think this will be my, well this will be my last competition too, which is pretty special," White, 35, told a news conference.
White, competing at his fifth Games, had already said 2022 would be his last appearance on the Olympic stage.
Read more here and see when and how you can watch him compete.