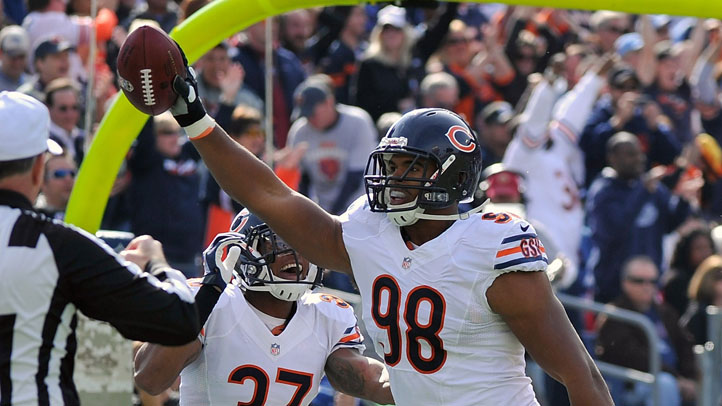 All season long, there has been a ton of focus on the Chicago Bears' special teams unit, and they will be up against one of their biggest tests of the season when they head down to St. Louis to take on the Rams on Sunday afternoon.
Obviously, the big headlines going into the game are going to focus on the battle between Devin Hester and Tavon Austin, and there are good reasons for that. For starters, Austin has been dynamic at times in the Rams' punt return game, racking up 268 yards in 30 returns this season. Included in that total was a 98 yard touchdown return against the Indianapolis Colts in Week 10.
On that play, Austin grabbed the ball off a bounce, and took off up the sideline, showing some great speed and tremendous awareness of the lane that opened to him. The lack of hesitation was the big key to springing the play, and good downfield blocking finished it off as Austin delivered a dagger to the Colts' hopes of a comeback.
As for the defensive aspect of the Rams' special teams, they are a tremendous group that has really clamped down on their opponents. They have only allowed 73 total punt return yards on 23 attempts this season, and the long return they've given up is only 17 yards. That success is due in no small part to Johnny Hekker, who has pinned 14 kicks inside the 20 yard line while only giving up two touchbacks in 53 punts.
On field goals this season, the Rams are just as good, with Greg Zuerlein making 15 out of the 17 kicks he's attempted this year. His only two misses have come from outside of 40 yards, and he's a perfect 11-for-11 inside the 40 yard line. He has also made all 23 extra points that he has attempted this season.
Obviously, there's not much that the Bears can do to prevent Zuerlein from getting chances to kick field goals other than to stop the Rams on defense, but there is plenty that they can do to slow down Austin and company. For starters, Adam Podlesh needs to continue to improve in his directional kicking, which he's had trouble with at times this season. The Bears' offense has made some good strides in terms of being able to limit the number of times Podlesh has had to kick, but when he has, the ball has gone all over the place.
In addition to Podlesh being able to place the ball where he wants, the Bears' special teams as a whole need to do a better job of staying disciplined in coverage and blocking. Zack Bowman picked up a penalty on a punt return in the second quarter against the Ravens in Week 11, and he followed that up with another penalty for an illegal block above the waist in the third quarter. The Bears even picked up a third penalty on special teams at the beginning of overtime when Michael Ford committed an offsides on the kickoff.
If the Bears keep doing those kinds of silly things on special teams plays, then they are going to have some serious issues against a Rams team that is capable of burning them with speed all over the field. It's going to take discipline in all areas to beat St. Louis, and the Bears haven't been showing that lately. If they can, then things should be a lot simpler for them against the Rams.