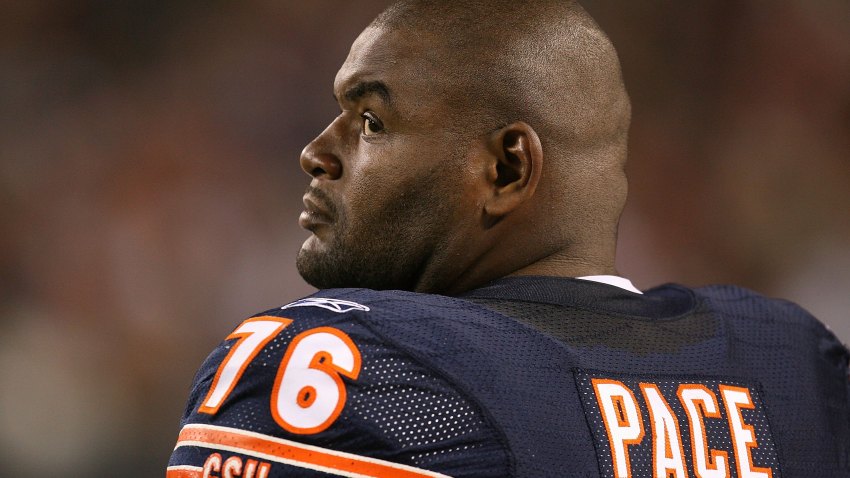 Literally nothing positive came out of the Bears' loss to the Bengals on Sunday. There weren't any silver linings, any small victories, any miniature signs of progress. None. Nada. Zilch.

So we might as well keep harping on the same things we've been discussing for weeks now, right? By which we mean to say: This Bears offensive line is awful.

The o-line was always going to be patchwork; it was one of the weak spots entering this 2009 season. But where some of those other areas have acquitted themselves relatively well, at least before Sunday (we're thinking of the wide receivers here; the secondary could make a case, too), the Bears' o-line has actually gotten worse. It's a mess. And there's no real solution.

The trouble starts with Frank Omiyale, the left guard who can't seem to get any sort of push regardless of whether the Bears call a run or a pass. Matt Forte's inability to run on the inside in 2009 has much to do with Omiyale's struggles, as aging center Olin Kreutz has managed to play at his typical All-Pro level. Omiyale, on the other hand, is awful, and so is the man to his left: Orlando Pace.

Pace is a probable Hall of Famer. He's one of the better left tackles ever to play the game. In his prime, he was a force to behold. But his prime is long behind him. Now he's an occasionally capable run-blocker who's all too easy to beat on the pass rush, and rather than improve over his marginal performance against the Falcons two weeks ago, Pace actually worsened against the Bengals. Cutler faces pressure in the pocket on nearly every snap, and while he's capable of stepping up and avoiding the rush as well as any quarterback in the league, eventually, that pressure changes the game.

Which is not to say that the rest of the Bears offensive line shares none of the blame. Forte hasn't had better luck running over the right side of the line -- which includes former first-round pick Chris Williams at tackle -- than he has over the left. And it's not like the Bears even need to run all that effectively to score. Cutler can pick up the slack. But a completely nonexistent run game will doom this team to too many third-and-longs, and protecting Cutler on those downs is not going to be easy. Especially for this group.

The problem here is that after all this (rather obvious) analysis, there's not a whole lot to be done. The Bears can't make a trade. They don't have a stockpile of offensive linemen waiting in the wings. The only thing the Bears can do is try to game plan around their offensive line with short passes and screen plays and as many off-rhythm sets as possible.

Yeah, we just wrote that: Game plan around the offensive line. This is never a good sign.

Eamonn Brennan is a Chicago-based writer, editor and blogger. You can also read him at Yahoo! Sports, Mouthpiece Sports Blog, and Inside The Hall, or at his personal site, eamonnbrennan.com. Follow him on Twitter.