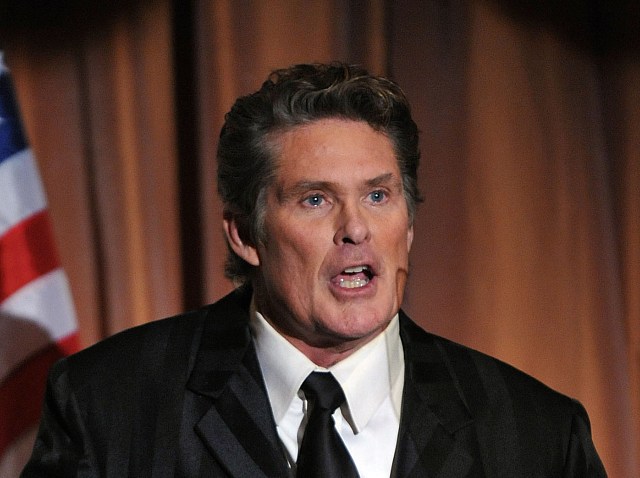 The A&E network is unleashing David Hasselhoff onto the world, giving the oft-embattled star a 10-episode platform to air later in the year.
The cable network has signed the Hoff for the half-hour "unscripted" series which will "focus on the star's entertainment, business and family challenges," reports Variety.com. The program will spend considerable time on the "Baywatch" star as he helps his teenage daughters become recording artists.
There is great reason to be hopeful for such a project, but it has to deliver the goods. Right now the details are incredibly sparse. But the last thing the world needs is a grinning, Hoff-whitewash. We all know he truly loves his girls and their careers, but what's going to make this show work is seeing the fantastic Hoff, warts and all. He's never been one to let the world see any blemishes.
This has no doubt been the only impediment to Hoff's success in this medium in the past. For years, the Hoff has searched for a way to showcase his completely out-there appeal and energy in his everyday life.
In 2006, I was the first to interview him after his very public divorce. The back-and-forth leading up to the interview was incredibly lengthy because, behind the famous smile and a sincere eagerness to talk (about anything), Hasselhoff is incredibly wary of having parts of his personal life examined.
Even as he strove to control his image, he was full of ideas of how to let people into all parts of his world. At the time it was the "Hoff cam" which he would wear that would let the rest of the world see exactly what he was seeing. The project never came to be. Variety reports that in September 2007, E! green-lit "Tales of the Hoff," which was supposed to present a fictional but rooted-in-truth version of Hasselhoff's life -- including some of the personal problems he has faced.
This project never made it to the air and I wouldn't be surprised if it was that need for privacy that squashed it. It's a killer for any reality show for obvious reasons. The viewer needs the goods. That's why they call it "reality" television.
But I'm hoping this show hits on something real. Because the Hoff unscripted, truly unscripted, would make for great television.