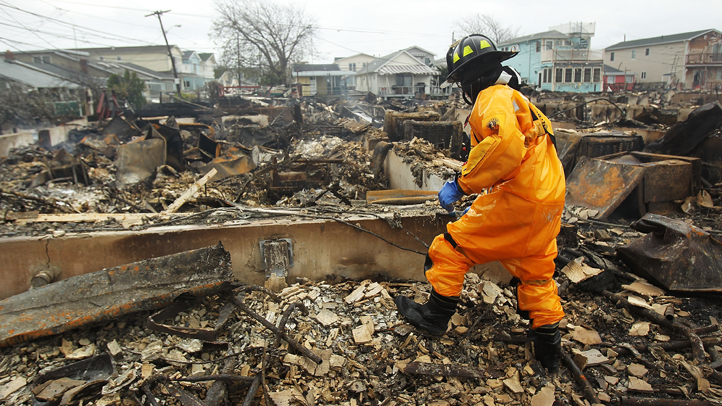 A day after after superstorm Sandy made landfall in New Jersey, more than 8.2 million homes and businesses from Maine to the Carolinas remain without electricity, and an eerily quiet New York City was all but closed off by car, train and air.
As the U.S. death toll climbed to at least 46 people, President Barack Obama warned that the massive storm was "not yet over" due to continued risks of flooding and downed power lines.
In a visit to the Red Cross in the nation's capital Tuesday afternoon, Obama called the aftermath of the storm "heartbreaking for the nation."
Obama said he told governors in affected areas that if they get no for an answer, "they can call me personally at the White House."
He urged Americans to look out for their neighbors and "show the kind of generosity that makes America the greatest nation on earth" by donating to relief efforts.
"This is going to take some time," he said. "It is not going to be easy."
Hours earlier, Obama declared a major disaster in New York City, Long Island and New Jersey, where the storm roared ashore Monday night with hurricane force.
Bloomberg and New Jersey Gov. Chris Christie both called the storm and the damage it inflicted "unprecedented."
"Our teams are moving as fast as they can," said Gov. Christie in a morning press briefing after police and fire officials, some with their own departments flooded, fanned out to rescue hundreds. "The devastation on the Jersey Shore is some of the worst we've ever seen. The cost of the storm is incalculable at this point."
Visit NBCNews.com for breaking news, world news, and news about the economy
At least 8.2 million people across the East were without power. Airlines canceled more than 15,000 flights around the world, and it could be days before the mess is untangled and passengers can get where they're going.
The storm also put the presidential campaign on hold just a week before Election Day. President Obama canceled a third straight day of campaigning, scratching events scheduled for Wednesday in swing state Ohio, which got clobbered by Sandy's winds as the storm pushed west.
"This will be one for the record books," said John Miksad, senior vice president for electric operations at Consolidated Edison, which had more than 780,000 customers without power in and around New York City. He said Lower Manhattan residents could be in the dark for three or four days, NBC New York reported.
Lower Manhattan, which includes Wall Street, was among the hardest-hit areas after the storm sent a record surge of seawater nearly 14 feet high, coursing over its seawalls and highways and into low-lying streets.
Water cascaded into the gaping, unfinished construction pit at the World Trade Center, and the New York Stock Exchange was closed for a second day, the first time that has happened because of weather in more than a century. The exchange was set to re-open on Wednesday.
A huge fire destroyed at least 80 homes in Breezy Point, a flooded beachfront neighborhood in Queens, forcing firefighters to undertake daring rescues. Three people were injured in the fire, which started late Monday and raged long into Tuesday morning.
• Click to see video of the six-alarm Breezy Point blaze.
"It looked like a forest fire out in the Midwest," Mayor Bloomberg said Tuesday.
A downtown hospital, New York University's Tisch, evacuated 200 patients after its backup generator failed. About 20 babies from the neonatal intensive care unit were carried down staircases and on battery-powered respirators.
Visit NBCNews.com for breaking news, world news, and news about the economy
A construction crane that collapsed in the high winds on Monday, still dangled precariously 74 floors above the streets of midtown Manhattan. And on Staten Island, a tanker ship wound up beached on the shore.
With water standing in two major commuter tunnels and seven subway tunnels under the East River, Mayor Bloomberg said it was unclear when the nation's largest transit system would be rolling again. It shut down Sunday night ahead of the storm.
Joseph Lhota, chairman of the regional Metropolitan Transportation Authority, said the damage was the worst in the 108-year history of the New York subway.
The saltwater surge inundated subway signals, switches and electrified third rails and covered tracks with sludge. Workers began pumping the water out and will ultimately have to walk all of the 600 miles of track to inspect it.
Millions of more fortunate New Yorkers surveyed damage as dawn broke, their city brought to an extraordinary standstill.
"Oh, Jesus. Oh, no," Faye Schwartz said she looked over damage in Brooklyn, where cars were scattered like leaves.
Reggie Thomas, a maintenance supervisor at a prison near the overflowing Hudson River, emerged from an overnight shift there, a toothbrush in his front pocket, to find his Honda with its windows down and a foot of water inside. The windows automatically go down when the car is submerged to free drivers.
"It's totaled," Thomas said with a shrug. "You would have needed a boat last night."
Besides the subway and the stock exchange, most major tunnels and bridges in New York were closed early Tuesday, as were schools, Broadway theaters and the metropolitan area's three main airports, LaGuardia, Kennedy and Newark.
The Brooklyn Bridge, the George Washington Bridge, the Verrazano-Narrows Bridge and several other spans were reopening Tuesday. And bus service was also set to resume in the city later in the day, NBC New York reported. Mayor Bloomberg said roads should be free of water by Wednesday.
In New Jersey, a huge swell of water swept over the small town of Moonachie, near the Hackensack River, and authorities struggled to rescue about 800 people, some of them living in a trailer park.
And in neighboring Little Ferry, water suddenly started gushing out of storm drains overnight, submerging a road under 4 feet of water and swamping houses. Police and fire officials used boats and trucks to reach the stranded.
Visit NBCNews.com for breaking news, world news, and news about the economy
"I looked out and the next thing you know, the water just came up through the grates. It came up so quickly you couldn't do anything about it. If you wanted to move your car to higher ground you didn't have enough time," said Little Ferry resident Leo Quigley, who with his wife was taken to higher ground by boat.
Jersey City was closed to cars because traffic lights were out, and Hoboken, just over the Hudson River from Manhattan, dealt with major flooding. In Atlantic City, most of the world-famous boardwalk was intact, but pieces washed away Monday night.
Remnants of the hurricane were forecast to head across Pennsylvania before taking another sharp turn into western New York by Wednesday morning. Although weakening as it goes, the storm will continue to bring heavy rain and flooding, said Daniel Brown of the National Hurricane Center in Miami.
Meteorologists from NBC Connecticut warned that the state could face possible tornadoes Tuesday in the wake of the Sandy. Gov. Dannel Malloy called the superstorm "the worst water event in the state's history."
As Hurricane Sandy closed in on the Northeast, it converged with a cold-weather system that turned it into a monstrous hybrid of rain, high wind — and even snow in West Virginia and other mountainous inland areas. President Obama declared a state of emergency in West Virginia on Tuesday as powerful blizzards swirled there.
In a measure of how big the storm was, high winds spinning off the edge of Sandy clobbered the Cleveland area early Tuesday, uprooting trees, cutting power to hundreds of thousands, closing schools and flooding major roads along Lake Erie.
Hundreds of miles from the storm's center, gusts topping 60 mph prompted officials to close the port of Portland, Maine, and scared away several cruise ships.
The dead included: 15 people in New York state; three in New Jersey; two in Pennsylvania, Connecticut, Virginia and Maryland; one in West Virginia and one person at sea when the HMS Bounty replica sank off North Carolina.
Sandy also killed 69 people in the Caribbean before making its way up the Eastern Seaboard.
Just before it made U.S. landfall at 8 p.m. near Atlantic City, N.J., forecasters stripped Sandy of hurricane status, but the distinction was purely technical, based on its shape and internal temperature.
While the hurricane's 80 mph winds registered as only a Category 1 on a scale of five, it packed the lowest barometric pressure on record in the Northeast, giving it terrific energy to push water inland.
In New York, the construction crane atop a 1,000-foot, $1.5 billion luxury high-rise in midtown Manhattan dangled for a second day while authorities tried to figure out how to secure it. Thousands were ordered to leave nearby buildings as a precaution, including 900 guests at the ultramodern Le Parker Meridien hotel.
Alice Goldberg, 15, a tourist from Paris, was watching television in the hotel — whose slogan is "Uptown, Not Uptight" — when a voice came over the loudspeaker and told everyone to leave.
"They said to take only what we needed, and leave the rest, because we'll come back in two or three days," she said as she and hundreds of others gathered in the luggage-strewn marble lobby. "I hope so."
An explosion Monday night at a substation for Consolidated Edison, the main utility service New York City, knocked out power to about 310,000 customers in Manhattan.
• Click to see raw video of the substation explosion.
"It sounded like the Fourth of July," Stephen Weisbrot said from his 10th-floor apartment.
In Baltimore, fire officials said four unoccupied rowhouses collapsed in the storm, sending debris into the street but causing no injuries. A blizzard in western Maryland caused a pileup of tractor-trailers that blocked part of Interstate 68 on slippery Big Savage Mountain.
"It's like a long-tailed cat in a room full of rocking chairs up here," said Bill Wiltson, a Maryland State Police dispatcher.
New Jersey Gov. Chris Christie — whose own family had to move to the executive mansion after his home in Mendham, far from the storm's center, lost power — criticized the mayor of Atlantic City for opening shelters there instead of forcing people out, NBC Philadelphia reported.
"Here we are in throes of a major catastrophe and the governor has chosen a time such as this to play politics," Atlantic City Mayor Lorenzo Langford shot back on Tuesday's "Today" show. "I think it's reprehensible that he would stoop to the level to try and make a political situation out of something that is so serious as this situation."
Copyright AP - Associated Press