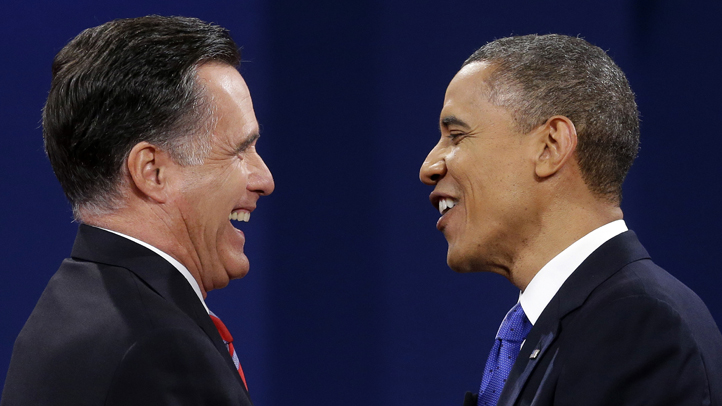 After many months, countless attack ads and nearly $2 billion raised and spent, the presidential campaign is finally coming to a close. To help put the long slog of a race into perspective, we've dipped into the archives and come up with a list of some of the campaign's most pivotal, and memorable moments.
Rick Perry's debate brain freeze
There was a time, more than a year ago, when Texas Gov. Rick Perry was considered the front runner among a strong field of Republican primary candidates that included Rep. Michele Bachmann of Minnesota, conservative talk radio host Herman Cain, former House Speaker Newt Gingrich, former Utah Gov. Jon Huntsman, Rep. Ron Paul of Texas, former Massachusetts Gov. Mitt Romney and former U.S. Sen. Rick Santorum. But Perry had a crushing weakness: muddy debate performances. His string of live-action flubs culminated on Nov. 9, 2011, when he tried to name the three federal agencies he'd eliminate if he became president.
"It's three agencies of government when I get there that are gone," Perry said. "Commerce, Education, and the…what's the third one there? Let's see." Nearly a minute passed, as some of the other candidates tried to help him out with suggestions. But it did no good. "The third agency of government I would do away with - the education, the uh, the commerce and let's see. I can't the third one. I can't. Sorry. Oops." Later, he remembered: the Department of Energy. But it was too late. Perry was dogged by speculation that he would drop out. He vowed to fight on, but by January he was gone.
Cain withdraws from race
Even the most outsider candidates seem to have their surges of popularity, and for a brief time Herman Cain had his with a "9-9-9" tax plan. And then he fell just as quickly, as a series of women came forward with allegations that he had sexually harassed them while he ran the National Restaurant Association in the 1990s. Another woman claimed she had carried on a 13-year extramarital affair with him. Cain denied it all, but the charges overwhelmed his campaign, and on December 9, 2011, he dropped out, citing the "continued hurt on me and my family."
Santorum shocks Romney
Perhaps Tom Brokaw said it best when he summed up Rick Santorum's dogged candidacy by comparing the conservative former U.S. senator from Pennsylvania to a Hollywood action hero. "He's like a character in a Bruce Willis movie," Brokaw quipped during the head of the primary season. "He just knows how to stay alive."
Santorum's insurgency began with a surprising showing in the Iowa caucuses on Jan. 3. The Iowa GOP originally announced Mitt Romney the winner by eight votes, but reversed itself less than two weeks later, when a closer count revealed that Santorum had won by 34 votes. The difference was more than just a few votes; it established Santorum as a force to be reckoned with, and he rode that momentum for months, picking up primary victories in February and March. Romney finally got the better of Santorum in April, reeling off three victories that resulted in Santorum withdrawing on April 4.
Biden forces Obama's hand on same-sex marriage
Vice President Joe Biden is known for his spontaneity, which can catch even his closest allies off guard. At no time was was that more evident than on May 6, when Biden went on NBC's "Meet the Press" and declared that he was "absolutely comfortable" with same-sex marriage. The statement caught President Barack Obama by surprise, and effectively forced his hand on the issue. Obama had once stated his opposition to same-sex marriage, but had more recently conceded that his stance was "evolving," and apparently intended to declare his support some time just before the Democratic National Convention in August. Instead, on May 9, Obama gave an interview the ABC News in which he endorsed same-sex marriage. "At a certain point, I've just concluded that, for me personally, it is important for me to go ahead and affirm that I think same-sex couples should be able to get married." Biden reportedly apologized to Obama for upsetting the president's plans.
Romney clinches nomination
The race between President Obama and Mitt Romney officially began on May 29, when Romney clinched the Republican presidential nomination with a landslide victory in Texas. The achievement was largely symbolic, because he was already considered the front-runner, and most of his challengers, including Rick Santorum and Ron Paul, had dropped out. Romney, whose father, George, a Michigan governor, failed in his run for the Republican nomination in 1968, vindicated that loss and became the first Mormon to become a major-party nominee. "I am honored that Americans across the country have given their support to my candidacy," Romney announced. "And I am humbled to have won enough delegates."
Romney picks Paul Ryan
One of the biggest problems Romney faced as the GOP's nominee was ambivalence from the party's conservative wing. His solution was to pick Rep. Paul Ryan of Wisconsin as his running mate. Ryan, the 42-year-old chairman of the House Budget Committee, was the author of a budget proposal that called for steep tax reductions, aggressive spending cuts, and a reorganization of the way Medicare and Medicaid operate. In short, Ryan was the answer to conservatives' prayers: he was young, aggressive, well-spoken and, as a photo spread in Time illustrated, was in really good shape.
The choice highlighted the difference between the two campaigns on entitlements, taxes, the role of government in American life, and social issues, such as abortion. "There are a lot of people in the other party who might disagree with Paul Ryan," Romney said at a rally in which he introduced Ryan. "I don't know of anyone who doesn't respect his character and judgment." Ryan promised that he and Romney "won't duck the tough issues. We will lead."
Eastwood's empty chair
On paper, Romney was the headliner of the Republican National Convention. But he was nearly outshone by an unlikely political speech-maker: Oscar-winning director Clint Eastwood, who was introduced as a surprise guest just before Romney was scheduled to take the stage in Tampa on Aug. 30 and formally accept the GOP nomination. Working without a script or teleprompter, Eastwood, 82, delivered a long, rambling monologue that mocked Obama and Biden. He arranged for an empty chair to be brought on stage with him, and conducted an imaginary conversation with the president. The crowd of delegates roared, but the speech delayed Romney's by 10 minutes and dominated discussion of the night's events.
The Big Dog returns
Obama, too, was upstaged at his party's convention. But unlike Romney's choice of Eastwood, Obama pretty much knew what he was getting when he asked Clinton to formally nominate him at the Democratic National Convention's second night in Charlotte on Sept. 5. The president and Clinton had never been close – their rivalry dated back to Hilary Clinton's primary battle against Obama in 2008 – but they agreed to bury the hatchet in order to keep the White House in Democratic hands. Clinton, out of office for 12 years, clearly relished the opportunity to invoke the fiscal prosperity of the late 1990s that marked his second term as president, delivering a sparkling speech that argued that Obama deserved another four years to fix the economy. Clinton continued stumping for Obama through Election Day.
Romney's "47 percent" remarks
America got a rare glimpse of an unexpurgated Mitt Romney in September, when Mother Jones released a secretly recorded video of the former governor speaking to wealthy donors in Florida. Taken by a small camera or cell phone resting on a table, the video captured Romney saying how he wasn't trying to appeal to the "47 percent of the people" who will vote for Mr. Obama "no matter what." These voters, he said, were "dependent upon government, who believe that they are victims, who believe the government has a responsibility to care for them." The video threatened to upend his campaign, and Romney, who had battled a prevailing image of him as out of touch with middle-class voters, immediately sought to contain the damage. He conceded the remarks were "not elegantly stated" and insisted, "this is a campaign about the 100 percent." But the quote dogged him for the rest of the race.
Romney dominates first debate
It was the wrong time for the president to take a nap. Just when Obama seemed to be pulling away in the polls, Romney routed him in the first presidential debate on Oct. 3. The Republican aggressively questioned the president's ability to rescue the economy, but Obama often seemed uninterested in fighting back. Split-screen views of the debate showed Romney castigating Obama while Obama looked down as his lectern, grimly taking notes.
As front runner, Obama appeared to have adopted a strategy of caution, which rapidly backfired. Romney immediately gained ground in the polls, and pulled within striking distance of the president. Later, after he'd had a chance to review a tape of the debate, Obama conceded that he'd screwed up. In an appearance at a charity event with Romney, Obama joked about "the nice, long nap I had in the first debate."
An unlikely hero to emerge from the first debate was Big Bird, after Romney put the character's employer, PBS, on his hit list of government subsidies he'd cut. Immediately, supporters of Big Bird took to social media to defend the yellow-feathered victim. That weekend, Big Bird showed up on Saturday Night Live to defend himself.
Obama went on to rally in the second presidential debate, attacking Romney as a wealthy, far-right candidate who was masking himself as a moderate. At one point, the two men got in each other's faces, appearing as if they might come into contact.
Their third and final debate, limited to foreign policy issues, was more subdued, and this time it was Romney who took a more cautious approach, while the president used sarcasm to mock Romney's lack of experience in international affairs.
Sandy forces a pause in the race
Hurricane Sandy pummeled the Northeast a week before Election Day, forcing the candidates to briefly suspend their campaigns. As the devastation deepened, both men held off returning to the trail until after the worst was over. Whether the storm affects the race's result is a matter of debate, as questions remain about how millions of people still without power or access to transportation will get to the polls.