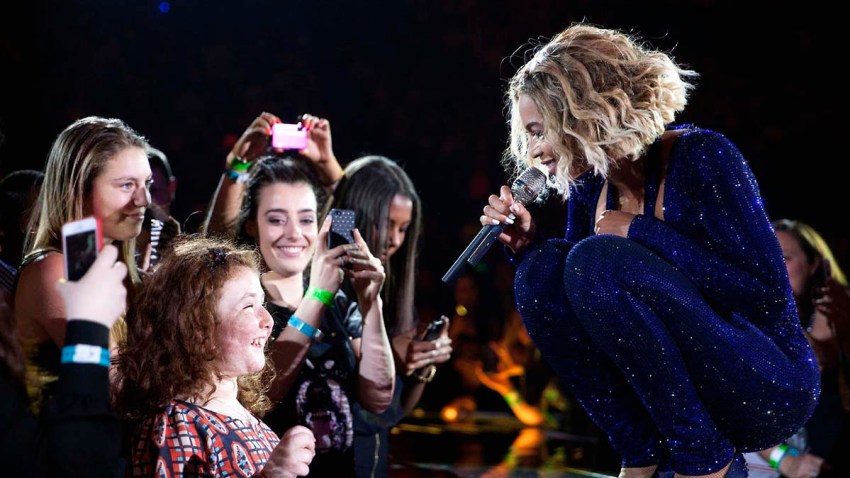 If you ever doubted for one second that Beyonce has a heart of gold, you need to watch this.
On Sunday, Nov. 10, at a sold out Mrs. Carter Tour World Tour show in Perth, Australia, Queen Bey made a dream come true for Sophie Kotkis, a 13-year-old legally blind fan with hearing and muscle difficulty. Jay Z's love dedicated "Irreplaceable" to Sophie--and enlisted her help in singing it.
VIDEO: Beyonce gets a kiss from Kid President
"I have a very special young lady here," said Beyonce, extending the mic to Sophie. "Tell everybody your name, beautiful!"
"Sophie!" she said excitedly, smiling from ear to ear.
"Everybody say, 'Hello, Sophie!'" said Beyonce. The crowd, of course, did just that, then erupted into cheers and applause. "Sophie, I think I need you to help me sing this song! You think you can sing, 'To the left?'"
Sophie nodded enthusiastically, and at Beyonce's encouragement, sang the lyric. Blue Ivy's mama asked Sophie to help again with the lyric, cheering her on as she obliged.
As you can see in the heartwarming clip, Beyonce stayed at the edge of the stage right by Sophie as she continued on with "Irreplaceable," stroking her face and even playing with her hair.
Sophie's older sister Ellie Kotkis, who helped arrange the unforgettable encounter, told Perth Now the whole thing was "amazing."
PHOTOS: Beyonce's Tour Costumes
"She had no idea that she was going to sing with her," Ellie gushed. "It was so important for me because there's been a lot of things in life that Sophie hasn't been able to do, but she loves music, loves to dance and loves to sing and this was just something for me to show the world how amazing she is."
Sophie, who will always treasure those moments, excitedly exclaimed, "I told my mum that I got a kiss from Beyonce."
Copyright E! Online